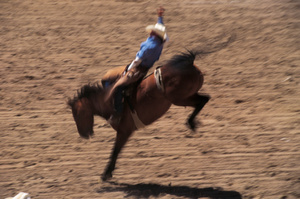 Horses and bulls will be back bucking at Hamilton's Claudelands Arena in November after organisers said they couldn't refuse last year's enthusiastic sell-out crowd.
But the Hamilton City Council's decision to allow the night rodeo has dismayed animal rights group SAFE which has been lobbying the council for a rule change to ban the events from the city.
Auckland City has banned rodeos since 2008.
The International Rodeo, which was previously held in Christchurch, will take place in November.
It production manager Fred Doherty was sure it would be another sell-out, with about 4000 spectators.
"We reviewed things in the off-season and when the event was such a success - with the support we had from the Hamilton authorities and the public - it was just so good we thought we have to go back and try it again."
Mr Doherty said the animal welfare concern raised by SAFE was a "non-issue" and he was pleased the council had agreed to have the rodeo at Claudelands again.
The rodeo followed the animal welfare code and the animals were well looked after, he said.
SAFE campaign manager Mandy Carter was disappointed the city council had ignored the animal welfare issues the group had raised, as well as a petition with more than 200 signatures.
"Hamilton is again going to be associated with animal cruelty, because that's what it means when you host a rodeo. Your city is linked to really abusive practices that take place in a rodeo."
SAFE planned to intensify its campaign against rodeos, extending it to Dunedin, where the event will be staged a week before Hamilton, and was also preparing to call for a ban in the law when the code of welfare for rodeos came up for review this year or early next year.
Hamilton City Council events and economic development general manager Sean Murray said the decision to again host the event was made by Claudelands management and based on the policy and success of last year's event.