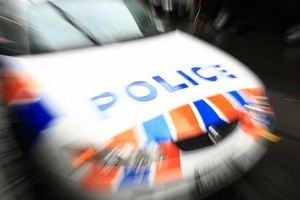 A would-be bank robber fled empty handed after a failed attempt to rob the Kerikeri branch of the National Bank.
The robbery was foiled on Monday when the teller - who initially thought the man was trying to make a withdrawal - insisted on seeing his details before handing over the $1000 he demanded.
Detective Patrick Derbyshire, of the Kerikeri Criminal Investigation Unit, said the would-be robber, thought to be in his 30s, entered the bank on the corner of Kerikeri Rd and Fairway Drive about 11am.
"He's hung around inside for a while, then told the teller he needed a grand ... As good tellers do, she told him she needed his details, and he said, 'No, I need a grand'."
It was only after she asked him a second time for his details that she realised he was holding a metal bar and was not trying to make a regular withdrawal.
At that point the man made an exasperated sound and "sauntered out of the bank". He was last seen crossing Kerikeri Rd and heading up Cobblestone Mall. The teller was unharmed but said her heart was racing when she realised the man was attempting a robbery.
Mr Derbyshire urged anyone who could identify the man to call him at the Kerikeri station on (09) 407-9211. He was described as a light-skinned male Maori with a goatee beard, aged 30-40, with a tattoo on the left side of his neck.
He was wearing dark trousers with a reflective strip around the cuffs, a black jacket with a white design on the front and a distinctive red-and-black tartan baseball cap. No attempt at disguise was made.
The branch was closed around 11.30am while police carried out inquiries. A notice posted at the door informed customers of the robbery attempt and advised them to use the ANZ up the road.
Police were seen searching the area around the McDonald's carpark, the domain, the skatepark and Kerikeri bars for the suspect.
- APN