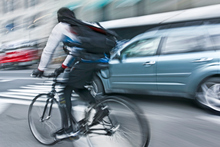 I am a keen cyclist who cycles to work most days. When I get to a queue of stationary traffic I normally "undertake" carefully on the kerb side, even if there is no cycle lane. However, I often encounter cars either turning left in front of me or, even worse, passengers opening doors without looking and stepping out. My question is: Am I actually allowed to do this or am I supposed either to wait in the queue or overtake on the outside of the traffic which I consider to be much more dangerous?
- Paul Frew, Panmure.
I cannot find any rule that specifically states that you may not pass stationary traffic on the left.
The Road Code for cyclists exhorts them to keep as far to the left as practicable, but not to the extent thatit compromises safety. When passing moving vehicles, you should passon the right unless lanes allowpassing on the left, or when other vehicles are turning right.
Road rules for motorists advise them to check for cyclists before opening a car door, whether on the left or right. Motorists should also always be aware of the possibility of cyclists and make room for them.
At the corner of Fanshawe and Halsey Sts (turning left into Fanshawe), the turning arrow is always green, orange or dark. As far as I'm aware, in this instance it's acceptable to turn left provided there is no oncoming traffic. Is this correct? The bulb isn't dead, all the traffic lights act the same and it's been like this since I can remember. I turn left when I can but I've only ever seen one other driver turn and am almost always stuck behind other drivers who don't turn.
- Duncan Erasmus, Auckland.
Yes, you are correct. If there is no red arrow preventing your turn, or an orange/yellow arrow indicating that the red light is imminent, you may turn left when the way is clear.
In situations where pedestrians use a controlled crossing when the "cross" light is red (ie, jaywalkers ), are motorists required to remain stationary until the pedestrians reach the other side of the road, as now required for uncontrolled crossings? I have no intention of mowing anyone down, but some clarification of this matter would be great.
- Maria Carbines, Hillsborough.
The Road Code states clearly that when a non-flashing red figure is displayed, pedestrians may not cross the road at a signalled pedestrian crossing. However, they do, as we all know.
My interpretation of the road rules suggests that if the pedestrian has passed in front of your vehicle and is moving away from it, you may proceed.
By Phoebe Falconer

Email

Phoebe