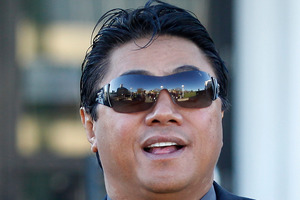 Former rugby league great Tawera Nikau has lodged an appeal against an assault conviction after a judge delivered a shock ruling at his sentencing in Hamilton yesterday.
The former Kiwis and Melbourne Storm star, now a successful businessman appeared in the Hamilton District Court yesterday after he was found guilty in June of assaulting his estranged daughter Heaven-Leigh on February 24.
Nikau's lawyer Gary Gotlieb sought a discharge without conviction with the lawyer arguing that Nikau's offending was at the "lower end of the scale".
But Judge Peter Spiller said he could not discharge a defendant without conviction unless the court was satisfied that the direct and indirect consequences would be out of proportion to the offence.
Despite Mr Gotlieb arguing that Nikau was trying to defend himself at the time of the incident the judge referred to the "seriousness" of the charge and said police pictures showed bruising to Heaven-Leigh's neck.
He said Heaven-Leigh was also "strongly opposed" to Nikau being discharged without conviction.
As he passed sentence on Nikau - convicting him and ordering him to pay reparation of $200 within 21 days plus court costs of $132.89 - a gasp was heard in the public gallery of the courtroom.
Nikau left the court with his wife and declined to comment outside when asked about his reaction to the decision.
But Mr Gotlieb later told the Herald that Nikau was "gobsmacked" by the court's ruling and had lodged an appeal against both the sentencing and conviction before leaving the court.
He said he wanted to call to the defended hearing an independent witness, who watched events between Nikau and his daughter unfold, but his request was rejected.
Mr Gotlieb had earlier told the court how Nikau was "a huge, strong man" but merely pushed his daughter away, placing his thumb on her throat not wanting to harm her when the two confronted each other outside the Huntly police station.
He said a criminal conviction would have a serious effect on Nikau's family, his various business interests and the charitable organisations he works with.
He also provided several statements which testified to his client's good character.
"I'm struggling to think of someone more deserving of credit for what he's done," said Mr Gotlieb.
Nikau, who entered a not guilty plea to the assault charge when he appeared in court in March, earlier told police how he no longer had a relationship with his daughter.
He claimed Heaven-Leigh was a liar, a cheat and a thief with no fixed abode.