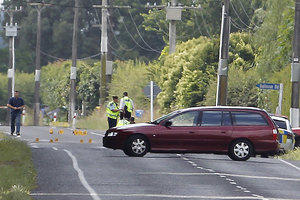 The family of a man who was hit by a car and killed say it is "a joke" the charges against the driver are being dropped.
William Hoskins, 26, was walking back to a Cambridge motel after his cousin's wedding on Marychurch Road when he was hit by a vehicle about 4.45am on January 15.
The Hastings concrete worker was found critically injured shortly after by a motorist who called emergency services, but Mr Hoskins died when paramedics arrived.
David Gregory Mascelle, 47, handed himself in to police the next day.
Mr Mascelle's wife, Hamilton community magistrate Ngaire Mascelle, was a passenger in the car at the time.
Police have dropped a charge of careless use of a motor vehicle causing death against Mr Mascelle.
Waikato District Commander, Superintendent Win van der Velde said the investigation into the death of Mr Hoskins had been a long and extensive one, but there wasn't sufficient evidence to prosecute the driver.
"As a result of this investigation, taking into account the specialist crash report, evidence provided by external forensic experts and legal advice it has been identified that the case lacked the evidential sufficiency to successfully prosecute the driver involved in the 15 January incident.
"Police know this news is upsetting to the family and friends of Mr Hoskins and investigators communicated the legal decision to the family early this week. At the same time my staff expressed their condolences to the family."
Mr Van der Velde said the matter remained in judicial process for the Coroner's inquest to determine the cause of death and take into account the associated circumstances leading to the death.
"Police will continue to be involved in the investigation on behalf of the Coroner."
Mr Hoskins' father, Greg Hoskins, was furious with the decision, and believed his son would have been treated differently if he had been the driver involved in a hit and run.
"It's a joke, mate. It's just how it is," he told the Waikato Times.
"You don't get over ... this," he said. "It's for life."
- Herald online