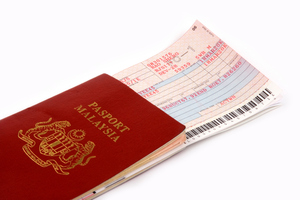 A growing number of identity fraudsters are using fake Malaysian passports in their attempt to enter New Zealand illegally.
In May, three Chinese nationals were stopped at Auckland Airport while travelling to South America on fake Malaysian passports.
And in the past 12 months, eight of the 14 people stopped from entering New Zealand at the border also had counterfeit Malaysian passports.
Travellers using Malaysian passports are allowed to enter New Zealand without visas.
"In the past 18 months there has been a small spike detected of counterfeit Malaysian passports being presented by groups of people attempting to transit through New Zealand," said Immigration New Zealand spokeswoman Ailsa Mannell.
"Of current concern are people attempting to travel on counterfeit passports of countries that have visa arrangements with New Zealand."
Ms Mannell said fake passports were known to be used in people-smuggling operations, and profiling techniques were used by the agency to identify suspected smugglers.
Since July 2010, 73 people have been prosecuted for identity fraud, and of the 14 people caught at the border, all except four, who are applying for refugee status, have been removed from New Zealand.
Of the 14, nine were found to be citizens of China, while the others were from Russia, Algeria, Venezuela, Cameroon and Sri Lanka.
Although the agency says it has systems in place to counter false passport use, Ms Mannell says identity fraud is a major challenge for all countries.
There was a 44.5 per cent growth in Malaysian visitor numbers in the year to May, and there are concerns that fraudsters may have slipped through using fake passports.
An Auckland traditional Chinese medicine practitioner, originally from Malaysia, last month lodged a report to the agency after two Chinese women who claimed to be Malaysians admitted to having "bought" their pass-ports.
The women had responded to an advertisement the practitioner had placed looking for an assistant at her East Auckland clinic.
"I began to suspect something was not right when they couldn't speak a word of Malay and didn't know anything about Malaysia or Malaysian food," said the practitioner, who did not want to be identified.
After she told them she was from Malaysia, they admitted they were from China and had bought their Malaysian passports while in transit in Kuala Lumpur, she said.
Malaysian Immigration says the country is being used as a transit point by human-smuggling syndicates, who issue fake passports to help people to enter countries that have visa-free arrangements with Malaysia, including the European Union.
The syndicates' practice is to purchase two tickets, one for a domestic flight and the other for the intended international destination, for each traveller, who use the domestic ticket to enter the airport to wait for their international flights without formal identification checks.