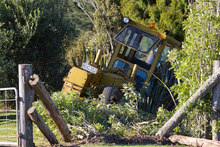 An Auckland family is preparing to turn off their father's life support system after a "tragic'' accident with a roading grader earlier today.
Mark Vernon was operating the grader, a construction machine with a long blade used to create a flat surface, on Maxted Road, Ramarama when he lost control of the machine and was forced to jump from it.
In the process he hit his head and was rushed to Middlemore Hospital where he is on life support in intensive care.
His son, Bob, who was on the scene at the time of the incident said he hadn't looked at the machine and didn't know what had gone wrong.
"The grader never hit him. It was a runaway machine and the call was made to jump from it.''
The pair who both work for the family earthmoving business Vernon Farms were working outside their property when the accident happened.
Bob Vernon told APNZ the family were saying their farewells and preparing to turn off his father's life support later this evening.
They have made the decision to donate his organs, saying it is what he would have wanted.
"He's got a friend who had kidney failure and he has always been of the opinion if you can give something of yourself to help another you should.
"It's just the kind of guy he was - a generous man.''
Neighbour and friend of 14 years, Paul Whiteford described Mark, believed to be in his late 40s, as a "really good bloke''.
"He was a great father to his two sons Bob and Cameron, always fishing and hunting with the boys.''
Mr Whiteford said Mark, who had lived on Maxted Road for more than 40 years, was a good mate and a great neighbour to everyone.
"If I never needed anything he came down or sent one of the boys down to help me.
"He was the kind of neighbour that if you needed a hand he was there.''
A Middlemore Hospital spokeswoman confirmed Mark Vernon was in intensive care, and said his condition was critical, causing concern.
- APNZ
By Kasia Jillings