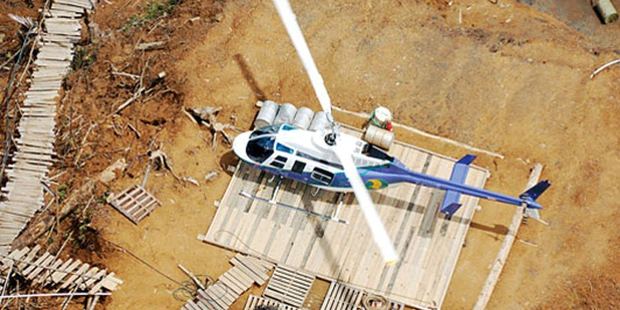 A full day of searching for a New Zealander and two Australians after their helicopter crashed in Papua New Guinea's least populated region has failed to find any sign of the men.
The Bell 206 Helicopter, operated by aviation charter service Hevilift, was reported missing about 4.30pm on Friday when it was somewhere near the town of Wabag in the mountainous Enga Province.
Hevilift managing director Paul Booij said the helicopter had left the InterOil Drill Rig when after about five minutes a mayday call was broadcast.
It was believed the three men were heading to Hou Creek to re-fuel and then were to return to their main base at Mt Hagen.
There was low cloud and reduced visibility at the time of the crash.
The search for the missing helicopter and those on board would continue at first light today.
A fixed wing aeroplane from Australia would conduct electronic surveillance in the search area, while seven helicopters would also continue looking.
Several other rescue hoist-equipped helicopters remained on standby.
The names of the missing men have not been released, but their families have been advised.
New Zealand Defence Force Papua New Guinea advisor Lieutenant Colonel Richard Taylor yesterday said there were many commercial helicopter operators in the area at the moment helping to set up the country's general elections.
Taylor said it would be a difficult search.
"It's quite rugged, you could probably describe it as a jungle version of the Southern Alps, very mountainous with a number of flat plateaux areas scattered around where the population centres tend to be."
Hevilift said it has asked for support from Australian Search and Rescue, ExxonMobil PNG, PNG Defence Force, Australian Defence Force, Hevilift clients and other helicopter operators in PNG.
- APNZ