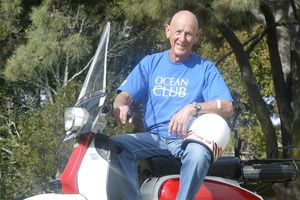 In octogenarian Sid Salek's world, every opportunity is there to be experienced.
The Mt Maunganui grandfather was featured in the Croatian Times newspaper recently for rafting the grade three Cetina River at age 82.
But for Salek - a well-known figure around town on his red and white Lambretta scooter - it was no big deal.
"There was nothing hairy about it."
The retired optometrist had travelled to Italy to compete in the World Masters' Swimming Championships, where he finished third in the 400m individual medley, before catching a ferry to Croatia. He hadn't planned to go rafting but guides from the tour company taking him sea kayaking suggested it.
Why not, he thought.
"That's what life is all about, isn't it? ... It's just getting on with it. 'Hey, this might be the last day I have around here, what's the best I can get out of it?' That's how I live my life."
Impressed by his attitude, the tour company did not charge him for either adventure.
He believed in "just getting on with it" when it came to challenges in life.
The second oldest patrolling surf lifeguard in the country, he spends his summers at Omanu Beach. He is also a former glider pilot and has just bought new skis and boots for the ski season.
"You gotta be a bit crazy, I don't want to be the richest guy in the cemetery.
"There's so much out there - sunrises and sunsets, they're all there for nothing if you want to take it and enjoy it. Otherwise you can stay in bed and leave the curtains drawn."