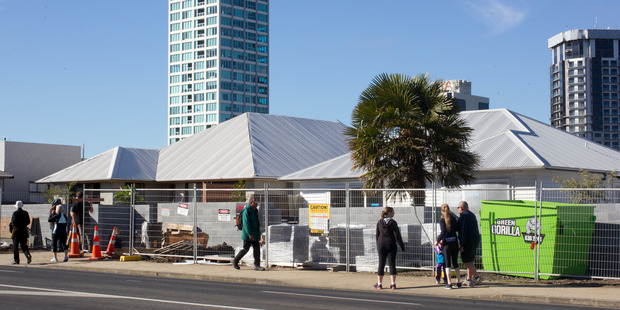 The Department of Labour has received health and safety complaints at the properties used in the popular TV3 reality series The Block.
Residents of Anzac Ave in Takapuna have reported concerns about safety procedures, saying "it's only a matter of time before there's an accident".
Former construction worker Paul Weaver lives across the road from the houses and was concerned at what he saw.
"The site was hardly blocked off. People were walking around barefoot. They've broken all health and safety rules - on roofs without harnesses, no hi-vis jackets, the film crew walk around with a total disregard for health and safety," said Weaver.
The Block is the first local version of the hit Australian reality series in which four couples compete to renovate run-down houses. The first episode rated as TV3's biggest show of the year.
Department of Labour spokeswoman Rebecca Shannon confirmed health and safety issues had been raised relating to The Block properties.
"We're working with TV3 to resolve these [issues] and will continue to work with them as required. If any more complaints are made, they'll be investigated," she said.
Weaver feared the show's popularity could make the street even more hazardous.
"There've been some near crashes in the last couple of days with cars slowing down to get a peek ... There's no-one controlling the road. The street is a major route for school children as young as 6 walking on the road alone," he said.
TV3 spokeswoman Rachel Lorimer dismissed the concerns.
"Safety is paramount to us and everything has been done by the book. We've had relevant visits and inspections. The contestants don't work on any part of the show they're not capable of - we have professional builders on location. All the rest is speculation."
news@hos.co.nz