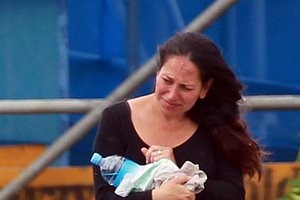 Darren Povey was driving his family home from a tangi when he fell asleep at the wheel, lost control and caused the death of his son.
The 44-year-old had earlier pleaded guilty to careless use of a motorvehicle causing death and careless use causing injury. He was disqualified from driving for six months when he appeared at the North Shore District Court today.
The court was told how Povey had been driving to his family home from a tangi up north on January 14 in perfect driving conditions when he fell asleep and failed to negotiate a gentle bend on State Highway 16 between Kaukapakapa and Wellsford.
The family's car left the road, rolled end-on-end and collided with a tree.
His 14 month-old son Paikea was killed and his two year-old son Asha was injured.
Outside court, a visibly emotional Povey declined to comment but his wife Carole told APNZ that it was through the love of their family that they got through the trauma.
"We've been through it all."
The family - from Helensville and around the Kaipara Harbour north-west of Auckland - had supported each other in their time of need and filled the public gallery during sentencing.
She said the accident happened on the way back from her Grandfather's tangi. He had been a chief and was the last of the Paikea line. Baby Paikea had been named after him.
The tangi, at Otamatea in the Kaipara region, was a two and-a-half hour drive from the family home near Helensville.
"There wasn't any fatigue, there had just been a lunch ... there was nothing we could have done differently."
She said her husband wasn't tired and he had just had a good rest.
"It was just something that happened," Mrs Povey said.
She said baby Paikea was the "peacemaker" of the family. He was a twin and had two brothers.
"The boys might be fighting and he would come between the two of them and start singing. He was not a cry baby, just a happy sweet little cherub."
She said he was buried next to his grandmother in the family urupa [cemetery] at Haranui, near Helensville.
In his sentencing, Judge Christopher Field said alcohol, drugs and speed had nothing to do with the crash.
He sent the court's condolences to the Povey whanau, who let out an emotional sigh as the judge passed sentence.
Povey's lawyer Michael Mann described it as a "tragic matter". He said his client's carelessness had been at the lowest end of the spectrum.
"There was no alcohol, no speed, there were no medical conditions such as jet lag to cause sleepiness."
He said the crash happened in the mid afternoon in sunny conditions and on a relatively straight stretch of road.
"He momentarily nodded off and the vehicle went off the road."