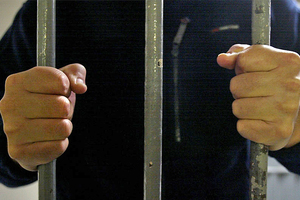 A West Coast man who couldn't spend a few minutes in the custody of Hokitika police without beating up a cellmate, now has 16 months behind bars to contemplate his impulsiveness.
Dennis William Fishburn, 23, was sentenced to a year in jail for assaulting a man with intent to injure and an extra four months in lieu of the $33,000 he owes in outstanding fines.
Fishburn inflicted a beating on another man as they shared a cell at the Hokitika police station after the Wildfoods Festival, on March 10. Both men had been arrested on charges of disorder.
The victim had been placed in the cell about 6pm and three hours later Fishburn joined him, and several others. As soon as the police officers left, Fishburn punched the other man, knocking him down and then standing over him, raining further blows about his head and body.
His victim was left with cuts, bruises, chipped teeth and was bleeding profusely.
In a victim impact report he said he did not know Fishburn, did not know why he had attacked him or why he did not stop after just one punch. Judge John Strettell said in the Greymouth District Court that Fishburn's "serious and mindless thuggery" warranted a stern sentence.
"It was not provoked, just aggressive and spontaneous actions without thought for the consequences," the judge said, noting that Fishburn had also been convicted of a serious assault in 2010.
Fishburn, who represented himself, said he took exception to being splashed when the other man urinated against a cell wall, and they fought; Fishburn got the upper hand.
Part of the prison sentence was also related to an intentional damage incident in September 2011, when Fishburn threw a beer bottle through the rear window of a police car.
- The Greymouth Star