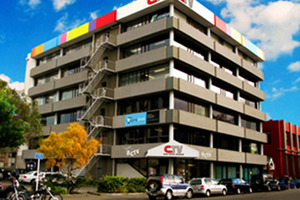 A contractor claims he drilled up to 200 holes into the beams of the CTV building in the late 90s, but admits his memory of the job is "hazy''.
Daniel Morris was company director of Christchurch firm Knock Out Concrete Cutters when it got the job to drill holes "all over the place'' in the concrete beams and floors of the doomed city office tower between 1995 and 2000.
But he can't remember who commissioned the work and has no records to firm up his story, which he relayed to the royal commission hearing into the six-storey building's fatal collapse in the February 22 earthquake.
Mr Morris stunned the hearing today with his brief appearance, giving evidence that his employees drilled up to 200 holes into the concrete tower block over a five year period.
Although he admitted his memory was vague, he believed around 50 were cut into beams, a third of which were steel.
When pressed by Mark Zarifeh, counsel assisting the commission, he was also unsure of exactly how many holes were cut, admitting the 200 figure was a "guess''.
He finally settled with saying, "I would say between 100 and 200''.
Engineers sifting through the rubble after the collapse, which killed 115 people last February 22, did not find any drilled holes in any steel beams.
He became defensive when his version of events were questioned, saying: "I'm not here to make things up.''
Mr Morris, who sold his business in 2000 and now describes himself as semi-retired, said the CTV job "wasn't out of the ordinary'', adding the work still goes on in Christchurch today.
The holes were used to install cabling or plumbing, Mr Morris said.
It took up to 30 minutes to drill a hole - from 40mm to 100mm - through a concrete beam.
"Often it included cutting through reinforcing,'' he said.
He charged per hole, he said, but had no formal record of the contract.
He estimated that he'd done similar work on around 50 buildings in Christchurch over the years.
The hearing was told that the main contractor would have gained permits for the job, before allowing Morris on site.
When the CTV disaster happened in the magnitude-6.3 quake, he immediately thought about "all the holes that had been cut in the beams''.
He came forward to tell the Department of Building and Housing (DBH) last May or June that he had done the drilling work, but had not heard anything back.
During further questioning, he was asked if the drilling work had ever caused him any concerns over its impact on the strength of buildings.
"I used to say, 'this ain't right' to the odd foreman, you know, having a beer at work on a Friday.''
But he admitted they never got an engineer in to check what they were doing.
Earlier today, the hearing was told by a Californian expert that the CTV building could have gone through 100 major earthquakes and not been checked more thoroughly.
Brian Kehoe supported conclusions by Christchurch structural engineer David Coatsworth that the six-storey building was sound after the magnitude-7.1 quake of September 4, 2010.
Today he told the royal commission hearing into its February 22 collapse, which killed 115 people, that without evidence of structural damage, Mr Coatsworth was right not to do more invasive analysis.
"It's done all the time,'' he said.
"We would've done the exact same thing.''
It could have gone through 100 earthquake events, and if no structural damage could be seen, then there was no need to look at it more closely, Mr Kehoe said.
The American structural engineer maintained that the building did not need to be red-stickered, and he agreed with Mr Coatsworth's October 2010 findings that it had performed well in the massive shaking.
Workers inside the Christchurch office block have given evidence that the building felt "sick'' after the September quake, which sparked the killer Canterbury earthquake sequence.
Mr Coatsworth, of CPG New Zealand Ltd, was the only structural engineer to inspect the building before it came down in February last year.
New Zealand could follow the United States' lead in how rapid assessments are carried out, Mr Kehoe concluded.
Training was better in his homeland, and he thought the placarding system could be clarified so the public and building owners knew exactly what a red, yellow, or green sticker meant.
Whether a green placard means a building is 'safe to occupy' has been a point of contention so far throughout the hearing, which started last week.
Mr Kehoe accepted Justice Mark Cooper's observation that New Zealand places ``much more reliance'' than America on council inspections.
The royal commission hearing, which is trying to establish what happened to the CTV building before it collapsed, continues on Monday.
It is scheduled to last eight weeks.
It is scheduled to last eight weeks.