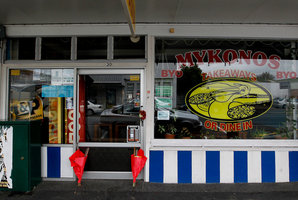 Waikato police are cold-calling Paeroa delivery people and trying to track down occupants of a white car as they piece together what was happening in the hours before pizza parlour owner Jordan Voudouris was murdered.
Mr Voudouris, 55, was found dead at the back of Mykonos Pizza and Pasta on Paeroa's main street at 6am on Monday, June 18.
A police team of 30 are working on the murder investigation and are appealing to the public for any information about a small, white, four-door car with an unusual black passenger door, which drove through Paeroa about 2am on the day the popular pizza man was found dead.
Detective Senior Sergeant Mike Whitehead, who is leading the investigation, said police believed the occupants of the car might provide some insight.
The latest clues come as police review security camera film as part of the consolidation stage and check and recheck witness statements and other evidence.
They have spoken to dozens of people and are looking for more witnesses.
Police spokesman Andrew McAlley also said investigators had been tracking down newspaper and milk delivery drivers, as well as any other early morning workers, such as bakers, who may have been in the vicinity during the early hours of the morning, to gauge what was going on in the town.
He said they were often the town's "eyes and ears" at that time of night.
"If you are a service provider that hasn't been contacted by police but was in the area at that time, we encourage you to come forward," Mr McAlley said.
Mr Whitehead said forensic evidence and statements from people in the town could be the key to catching the killer.
Mr Voudouris was a popular Paeroa identity, and was farewelled by about 1000 people at a large memorial service held in the town last week.
Following the memorial, Mr Voudouris' brother-in-law, Mike Burke, also appealed for any witnesses to come forward, for the sake of the victim's three grieving children.