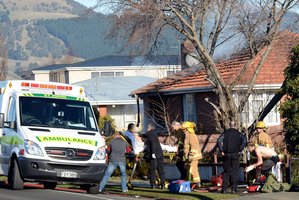 The Chief Coroner will conduct an urgent review on huffing, after two Mosgiel teenagers suffered critical injuries following the explosion of an lpg bottle.
A spokesman from the Office of the Chief Coroner confirmed Judge Neil MacLean will be conducting a review on huffing-related deaths.
Coroners dealt with 28 butane-related deaths from 2007-11.
"As part of that [review], he intends to make inquiries with his counterparts in Australia to see what is happening over there," the spokesman said.
Emergency services were called to Mosgiel at 2pm on Monday following reports of loud explosions and two burning men fleeing a house fire.
Yesterday, police named the pair as Brendon McLeod (17) and Jamie Jury (18), who were allegedly "huffing" (inhaling gas) from a 9kg lpg bottle, when the heat from a portable gas heater ignited a fireball in the lounge of the Gordon Rd house and set their clothes on fire.
Witnesses heard several explosions, which blew tiles off the roof, displaced walls, smashed windows and sent debris flying across the street.
A third bottle exploded minutes later with such force it was found embedded in the wall.
The pair remain in a critical condition, with Mr McLeod transferred to the burns centre at Middlemore Hospital in Auckland.
Mr Jury remains in the intensive care unit at Dunedin Hospital.
Both men have been unable to speak to police due to the seriousness of their condition, which left one with burns to his internal airways and lungs.
It is understood Mr Jury was on an electronically monitored sentence at the time of the incident.
Both he and Mr McLeod appeared in the Dunedin District Court earlier this year, after an alcohol-fuelled incident where they stole Mr Jury's father's car, crashing it at Outram Glen before trying to escape from police along the Taieri River.
Both were later rescued by a jet-boat which happened to be in the area.
Senior Sergeant Gavin Briggs said the huffing incident served as a reminder of the extreme dangers involved.
"Tragically, this incident has had terrible consequences for the two young men involved. The message is simple: gas is an extremely dangerous and risky substance to play around with: don't do it."