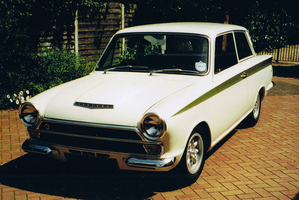 A classic 1966 Lotus Cortina took Kerikeri man Phil Sharp 10 years to lovingly restore to pristine condition.
But his beloved car, which would cost about $70,000 to replace, was gone in the less than the time it took for a round of golf after a thief stole the white and green vehicle last week.
A gutted Mr Sharp is offering a "substantial" reward for information that leads to the recovery of the car and arrest of the thief, who was last seen heading towards Kaikohe.
He bought the car "as a wreck" while living in the UK in 1990. He spent 10 years painstakingly restoring it from the ground and brought it back to New Zealand with him in 2003.
Mr Sharp seldom drives the Cortina, but last Wednesday took it to the Bay of Islands Golf Course, in Kerikeri, about noon as his regular car was having a windscreen repaired.
"I thought it would be fairly safe at the golf course, with plenty of people around, but when I finished at about 4.30pm I came back and there was no car," he said.
"At first I thought somebody was playing a joke and had parked it elsewhere, but somebody saw it being driven out of the carpark about 3.30pm."
He called the police and started spreading the word through his contacts and sightings came in of it being driven on Waipapa Rd, Wiroa Rd, Te Pua Rd and finally towards Kaikohe at 4.30pm that day, accompanied by another vehicle.
Mr Sharp said the thief would have a hard time disposing of the vehicle because of its rarity. It's believed to be the only one in Northland and one of around 20 in the country, with only 3000 made between 1961 and 1966.
"The classic car community will know it and it's easily identified. There are a host of things on it that I would recognise straight away as being my car," he said.
"I put 10 years' work into her then some b*****d decides to do that ..."
Anybody with information on the theft can contact Kerikeri police on 09 4079211 or call Crimestoppers, anonymously, on 0800 555 111.
For more articles from this region, go to Northern Advocate