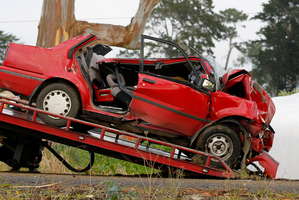 The sole survivor of a car crash that killed three teenage friends is in a critical condition in Waikato Hospital, unable to attend his mates' funeral tomorrow.
Ashley Foley, 19, Liam Jackson, 18, and Alan Jones, 18, will be farewelled in a combined service at Rosehill College in Papakura while Jaryd Doughty, 19, remains in hospital in intensive care.
The four friends were travelling back from Hamilton to Auckland so one could start work when the Nissan Sentra they were in collided with a gum tree on the side of Gordonton Rd at 5am on Friday. Mr Jackson and Mr Jones in the front seats and Mr Foley, in the back with Mr Doughty, died at the scene.
Yesterday Mr Doughty's parents released a statement offering their condolences to the families of the three dead young men. The Pukekohe parents said their thoughts and prayers were with the boys' families.
It is not clear if Mr Doughty has been informed about the fate of his friends.
His parents thanked emergency services who attended the scene including police, fire and St John Ambulance.
The couple also thanked medical staff at Waikato Hospital's emergency department, theatre and intensive care unit for everything being done for their son.
Mr Foley's uncle, Craig Nelson, said the family of Mr Doughty visited his nephew's family on Monday in an emotional meeting.
The boys had attended Rosehill College together where a service for the three friends would begin at 11am tomorrow.
"It is being combined for the three families, so it is going to be huge," Mr Nelson said.
He said reports the teenagers' car smelled of alcohol with alcoholic containers strewn inside it had caused further distress to the grieving families.
"The boys were coming back to Auckland for one of the friends to start work at BP Bombay ... he would hardly be turning up to work drunk."
Mr Nelson said his nephew was only a light drinker and he believed it more likely the driver fell asleep at the wheel.
The car was heading around an easy left-hand bend on to a straight stretch of Gordonton Rd when it veered left and smashed head-on into the tree.
There were no skid marks at the scene.
The bodies of the young men were trapped in the car, which had to be moved off the tree to allow emergency services to cut them free.
Mr Nelson said if it turned out alcohol played a factor in the boys' deaths the family would accept it.
Waikato road policing manager Inspector Leo Tooman said the deaths were a tragedy.
They brought the Waikato road toll to 18 compared with 28 for the same period last year.