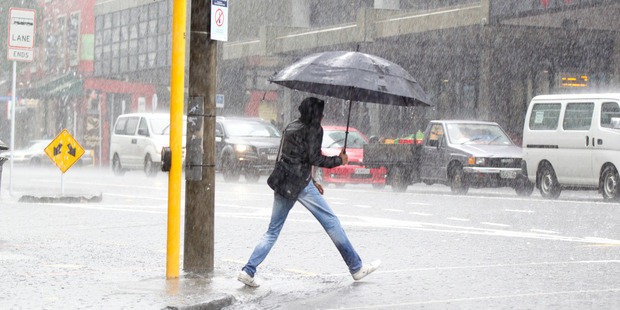 Pauline Clarke was getting ready to go out yesterday - but her plans were changed by a "geyser" shooting water 3.6m out of a manhole, and rubbish bins floating past her door.
Mrs Clarke's street, Arirangi Rise in Albany, was just one of many to be affected by flash floods during a severe thunderstorm that wreaked havoc around Auckland about midday.
Roads were closed, power cut and at least one roof was ripped off.
The Fire Service's resources were stretched thin and the northern police communications centre called in extra staff as people phoned about flooding - in just over an hour they attended about 150 callouts, a spokesman said.
One of those was from Mrs Clarke, who called 111 when she saw the manhole on her street burst open.
"It just kept raining and then the water started spouting about 12 feet in the air - I've never seen anything like it before. It was quite scary for a while there," she said.
"The water got up to the windows by the cars in the street. It all happened so quickly, within 15 minutes. It was like a big, massive, out-of-control river."
Her neighbours Jo and Wayne Langley were not as lucky as Mrs Clarke - the water got only as far as the entrance to her house, not inside.
The Langleys' single-level home was flooded by 25cm of water.
"It started pouring in the front door and ranchslider areas, so I quickly put the kids on the bed but it just kept rising and rising - I didn't know what to do," Mrs Langley told the Herald.
"It was almost like a waterfall, all of it just gushing in ... all of a sudden. Not a room's been saved."
The Fire Service pumped most of the water from her home,but it was left unliveable.
Mrs Langley booked her husband and two children - Jade, 10, and Ryan, 5 - into accommodation until an insurance assessor has looked over the property. "It's not a great way to start the school holidays, that's for sure," she said.
In central Auckland, Hobson St was closed about noon after high winds lifted a section of roof.
And Queen St, along with many major CBD major arterial roads, was subject to flash flooding when drains were unable to cope with the deluge. A roof in nearby Pitt St was ripped from its structure by the wind.
The wind also knocked out power to several localities. Vector said areas affected included Warkworth, Beachlands, Clevedon, Maraetai and Whitford.
However, while the downpour was heavy, it was also brief, and by 2.30pm sunshine had burst through the clouds as the rain band moved south and lessened in force.
Rain was forecast in Gisborne from yesterday until this morning and Hawkes Bay overnight and today.
MetService said the slow-moving weather system would lie across central New Zealand.
"Following this weather system, a cooler southwesterly flow will prevail later in the week," spokesman Daniel Corbett said.
"This could bring some snow to low levels across the far south of the South Island by the end of the week."
SUPER SOAKER
* 150 police callouts in
one hour.
* 3.6m geyser shooting from manhole
* 15 minutes to turn street into torrent
* 2 hours and the sun shines again