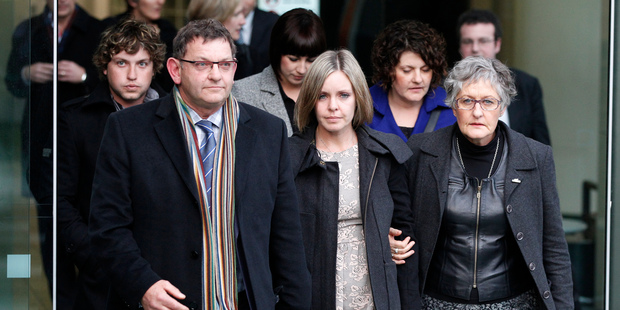 "Our lives have been an open book to the nation. We now wish to close this chapter and take time to pause and reflect away from that publicity and begin to rebuild our lives," a dignified Bryan Guy told waiting media.
He spoke minutes after the four-week Scott Guy murder trial was over, with Ewen Macdonald, 32, acquitted of shooting his brother-in-law. The police investigation, which left "no stone unturned" to find the killer, is over.
And so, too, is the marriage of Macdonald and his wife, Anna.
After deliberating for 10 hours over two days, the jury of 11 declared Macdonald not guilty of murder.
On hearing the verdict, Kylee Guy, widow of Scott Guy, screamed, "He killed my husband, he killed my husband", and fled from the courtroom, followed by detectives.
Distraught, she left the building without comment, clutching her husband's hat as she was shielded into a waiting car.
On hearing the verdict, Macdonald cried, put his head in his hands, then collapsed in the dock. His parents, Kerry and Marlene Macdonald, left the court soon after and refused to answer questions from the media.
Mr Guy's father, Bryan, emerged from court, flanked by his wife, Jo, daughter Anna and other family.
"The acquittal today leaves our family with mixed emotions. While we are relieved the trial is over, we are obviously left wondering who is responsible for the death of our son," Bryan Guy told journalists.
"This verdict today will not bring Scott back. This verdict will not restore a father to his children. It will not restore a husband to his wife. It will not restore a son and brother to his family."
With Anna Macdonald leaning her head on his shoulder, Bryan Guy said their lives had been altered forever. "The pain of our broken hearts is at times almost too much to bear. However, through this tragedy we have learnt a lot. Mostly about ourselves - what we stand for, what our values are, what is important to us.
"We have learnt how important a father is to his children. We know that a father can never be replaced, but with strong family and community values and support there is hope for the future."
Scott and Kylee Guy have two sons, Hunter and Drover, the younger of whom was born after Scott's death.
"We are thankful for how Scott touched our lives and we are richer for him being part of it," Bryan Guy said. "We must focus on what we have, not what we have lost. We are determined to love and support our children and grandchildren in their future."
Bryan Guy said his family were overwhelmed and grateful for the generosity of friends and strangers alike. "It reminds us that the world is full of good people who really do care."
After asking for privacy to rebuild their lives, the Guy family walked to waiting taxis without answering any questions.
While not guilty of murder, Ewen Macdonald was remanded in custody by Justice Simon France until his sentencing on July 31 for other criminal charges he has admitted committing.
His lawyer, Greg King, slipped out of court through a side entrance without comment, before joining his legal team at the nearby Thistle Inn.
Figures obtained by the Herald show that nearly $127,000 in legal aid has been paid to the defence team for their work leading up to, but not including, the four-week trial. The amount paid to the Crown prosecution team was not available last night.
Detective Inspector Sue Schwalger, the head of the Operation Yellow inquiry, fronted up to waiting reporters after the trial ended.
She said the nine-month police investigation, which cost nearly $700,000, put the best available evidence before the jury and the acquittal was accepted by the inquiry team.
The verdict was reached nearly two years after Scott Guy was gunned down on July 8, 2010.
"It has been a long and challenging two-year journey for everyone involved in both the investigation and the trial, especially the families, and I wish to acknowledge their strength and courage displayed throughout."
Asked repeatedly if she was disappointed, Ms Schwalger said the investigation was thorough and professional. Ninety-two staff worked on the case - with a maximum of 54 at any one time.
She confirmed the police were not pursuing other avenues of inquiry but said that if any other evidence came to light, it would be investigated with the "same vigour".
"No stone has been left unturned."