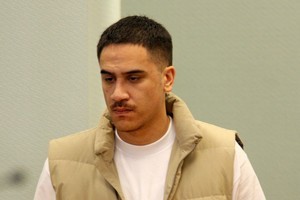 The man accused of running down a woman after snatching her handbag told police he had been waving at girls from his stolen 4WD before he thought of stealing a bag.
Christopher Shadrock, 25, denies murdering Jian 'Joanne' Wang after he snatched her handbag and collided with her in the carpark of the Westfield mall in Manukau, Auckland in June 2008.
His lawyers say Shadrock is a bag snatcher but not a murderer and did not intend to hurt anyone when he drove off with Mrs Wang's handbag.
The video interview Shadrock gave to police a few days after Mrs Wang's death was played to the jury at the High Court at Auckland today.
Shadrock told Detective Geoff McCarthy his day had started "like any other''. He had a shower and a few cans of Cody eight percent bourbon and cola before two of his mates stopped by and told him about a car they had seen.
He told Mr McCarthy and his lawyer Chris Wilkinson-Smith that the three jumped in a van and found the stolen white Nissan 4WD with a smashed ignition.
Shadrock - who was aged 21 when the interview took place - said he was a bit drunk as he drove around the streets of Otara waving to girls before heading to the shopping centre carpark.
His friends followed in the green van.
He said he was "waving out to girls'' when he drove into the carpark, saw Mrs Wang and thought he would steal a handbag.
"I just thought of it: Stolen vehicle ... use the opportunity.''
He told Mr McCarthy he jumped from the 4WD, opened the passenger door on Mrs Wang's car, leaned over her son and snatched the handbag sitting in the centre console.
He jumped back into the 4WD and put it into reverse but said as he looked over his shoulder he saw another car was blocking him in so drove forward instead.
"I put it straight into drive, my foot was still on the gas.'' Later on in the interview he said: "I just remember her going to the side of the vehicle. I didn't feel anything after that so I knew I didn't run her over. I just felt a jerk in the car.''
He said Mrs Wang "stumbled to the left'' and he drove out of the carpark.
Shadrock said he took the money from Mrs Wang's handbag which he left it in the truck.
He later met up with his friends who told him "bro, something happened down at the thing''.
"And that's when it came back to my head and I started freaking out.''
Under cross-examination from Mr Wilkinson-Smith, Mr McCarthty confirmed Shadrock had about five hours sleep in police custody before the interview took place.
He also confirmed that he never asked Shadrock what he thought the risks were when he drove the 4WD forward.
In his opening address three weeks ago, Crown prosecutor Kevin Glubb said in the days after the killing, Shadrock's friend Maka Tuikolovatu tried to help him by hiding the handbag.
Three others - Vila Lemanu, Lionel Tekanawa and Terence Tere - have denied setting fire to the stolen 4WD.
All four have pleaded not guilty. The trial continues.
- APNZ