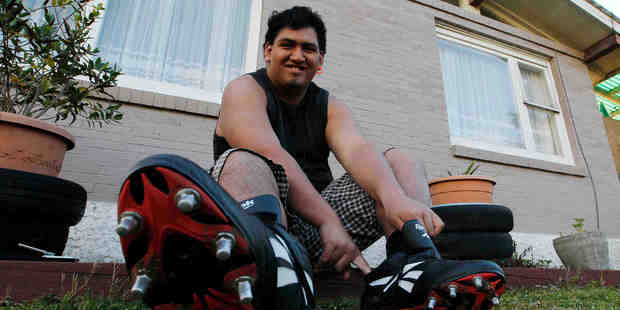 Bigfoot rugby player Shaquille Ioane has thanked All Black Luke Romano for donating his old size 17 boots - even though he can't wear them because they are too small.
But all hope is not lost. The 18-year-old from Kawerau has another pair - size 20s - donated by rising basketball star Steven Adams,- the 2.15m brother of shot-put star Valerie Adams.
Shaq weighs more than 160kg, stands more than 2m tall and has size 18 feet.
Until recently, the sometime prop or lock had never owned a pair of rugby boots and had difficulty with wet grass because his sneakers did not provide any traction.
But Romano, who read about Shaq and was sympathetic to his plight having had his own giant foot issues as a teenager, measured his 32cm feet and offered to donate his tailor-made boots.a
Shaq said he knew the instant that he unwrapped them that he had a problem.
"They're way too small ... they're a US17 and my feet can't even fit in them," he said.
"Still, it was nice to get them. There was a note in there, I'm not sure if it was from him but it said 'hope these help you and keep it up' and all that kind of thing, which was cool."
Fortunately, Shaq received another pair about two weeks ago from Adams.
The young Adams had been targeted by Scots College's former 1st XV coach Dave Meaclem to play rugby but has since left New Zealand to take up a basketball scholarship at the University of Pittsburgh.
The size 20 boots were "just a bit narrow".
"Still, I wore them about a week ago and they were awesome especially in the scrums," Shaq said.
"It's a completely different game with boots."
Because of his height and the size of his feet, most socks he wears barely reach his ankles but Shaq also received 10 pairs of socks from Ashburton business the NZ Sock Company after staff members there heard of his situation.
His dimensions have also attracted the interest of people off the field, with some people interested to see if he has a future in rugby. Shaq, though, is unsure how far he will go in the game.
"I really don't know but I am enjoying it so we'll see how it goes from here."
His grandmother, Lynn Kameta, often makes trips to Auckland, Whakatane and Rotorua in search of shoes for her eldest grandson and had spent thousands on shoes for him.
"Usually we just go up to the Otara markets every couple of years and just buy heaps of clothes," Shaq said.
"They have clothes there which fit me."