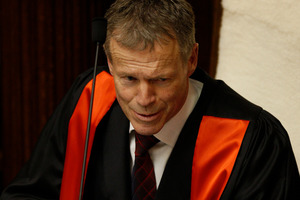 Delegates on the annual Speaker's Tour have left on a two-week, $158,000 business class trip to Europe to learn about the challenges facing the global economy.
Speaker Lockwood Smith, his wife, and four MPs - National's Melissa Lee, Labour junior whip Darien Fenton, Gareth Hughes from the Green Party and New Zealand First's Denis O'Rourke - will tour Britain, Croatia and Brussels for 14 days.
Parliamentary Relations told APNZ the estimated budget is $158,000, of which $110,000 will be spent on business class airfares.
Some of the costs will be met by host parliaments as part of reciprocal arrangements.
Daniel Tasker from Parliamentary Relations said Dr Smith's wife was going in a "representational" role and the cost of her participation was coming from parliamentary funds.
His colleague Averil Taylor said the Speaker's Tour was an integral part of inter-parliamentary relations and "invaluable to experience sharing".
Before leaving, Dr Smith said the delegation would meet European political leaders to talk about the challenges facing the global economy.
"Our delegation will engage with three key European countries at a time when global events are occurring that will have an impact on New Zealand's relationship with these countries."
According to the itinerary released by Parliamentary Services, the group arrives in London today and will visit the New Zealand Memorial in Hyde Park before dining at the New Zealand High Commission.
They will have a series of meetings with British MPs in the House of Commons, observe Parliament and meet the Speaker of the House of Lords Baroness D'Souza.
After that they travel to Croatian capital Zagreb for a meeting with Prime Minister Zoran Milanovic.
Then next week, the delegation will travel to Brussels for a lunch hosted at the New Zealand Residence. Among the speakers will be European journalists.
Later in the trip they will observe the European Parliament and meet its President Martin Schulz.
Staff in the offices of Ms Fenton and Ms Lee said they couldn't comment on the costs of the trip.
A spokesman from the Green Party said he didn't have the figures but invited APNZ to contact Mr Hughes by email.
He said the trip would allow MPs to stay in touch with what was happening in other democracies.
The spokesman said the costs of the trip would be a "drop in the bucket" compared to the Government's spending on motorways and tax cuts for the rich.
Mr O'Rourke's office did not return calls immediately.
- APNZ