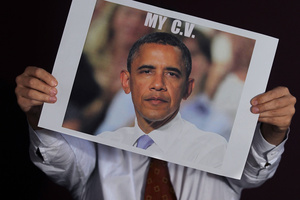 Stories making headlines across New Zealand at Noon include a supposed mind reader who says he's not tuning in to anything sexual, tsunami-like waves have been battering Gisborne and they asked for a massage table but got a F***** door.
This guy says he can read minds but doesn't dwell on people's sexual habits.
When Khristal Marsters paid $100 for a custom-made massage table for her father's gym, she ended up getting "a f****** door!"
Here's a video of Gisborne being hammered by "tsunami-like" waves with destructive swells of up to eight metres recorded in the bay.
Paranormal investigators looking for the spook who allegedly pushed one of their members down the stairs at Dunedin's Globe Theatre had an "incident" when a person felt someone sit down next to them, and a photo revealed "energy" beside them.
It looks like outspoken Far North Mayor Wayne Brown has grown big cow horns. Meanwhile Northland is gearing up for one of the richest people in the world to visit.
Putting pictures of famous people on your CV is not a good idea.
Police suspected Douglas Tautari might be drink driving when he backed out of his driveway and nearly hit a passing patrol car.
Te Whare Wananga o Awanuiarangi says it can use the term indigenous-university because the term was all in lower case and hyphened so it makes a whole new word and it doesn't really want to be a university despite calling itself one.
Here's what not to do when taking groups of school children into the Kaimai Ranges.
A Rotorua doctor has been charged with intent to injure.
There's good cause to be worried about food hygiene levels at food outlets in Western Bay of Plenty.
Fracking plans for Gisborne are on hold for now.
Abby Kingin never thought she would find her dream job in Wanganui. Meanwhile poor acoustics are causing problems at the Wanganui swimming complex.
A 78-year-old woman crossing the road on her mobility scooter has been hit by a van. Meanwhile a visitor to Larnach Castle ''took a bit of a tumble coming out of the tower.''
New Zealand holiday parks are being advised to add a rice-cooker to their kitchens in readiness for Chinese tourist.
The Kim Dotcom case has apparently put New Zealand between a rock and a hard place.
It's still not clear what the six pigs near Ashburton ate that killed them and a curious cat.
Meanwhile Greymouth High School deputy principal Maureen Melse has called it a day after forty-four years and thousands of children.
Top trending topics on Twitter in NZ at Noon were: #BlackCaps, #RapVideoCliches, Tour de France, Zac Efron, Happy Canada Day, Ditto, UAN, Bryce Lawrence, True Bliss and Final Destination 3.
* Peter Fowler is taking a break and will be back in August.