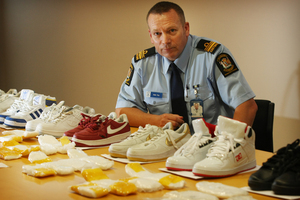 New operators are coming into NZ market with synthetic drugs
Drug culture is surging online as governments play catch-up with chemists constantly creating new drug compounds.
New Zealand Customs seizures since January 2009 have been dominated by methamphetamine (P)-related busts. However, a Customs spokesman said there was now rising concern about new drugs they did not yet fully understand.
"The pills are being marketed by various syndicates as Ecstasy," Customs manager of drug investigations Mark Day said. "The problem with that is, when you're dealing with synthetic drugs, no one really knows what the composition of that particular tablet or pill is."
Seizures of Class C analogues, drug precursors and undefined synthetic drugs have surged, according to recent figures.
Day said criminals were increasingly sourcing drugs and drug precursors online.
Users have also gone online to review drugs. At pillreports.com, New Zealanders offered reviews, advice and warnings. "It was a light blue colour with dark blue specks in it. You could chew it like a lollie," one user wrote about a pill called light blue blank.
"No taste, maybe a slight sweet taste, hardly anything though, average size, round, nothing stamped on it, and no effect."
"I feel sorry for you Kiwis," another user replied. "All you guys get is absolute rubbish. That must suck."
Day was especially concerned about fake Ecstasy flooding the streets. No two fake E pills were chemically alike, he said. That was dangerous for buyers and for emergency departments trying to treat people who overdosed.
"No one except the chemist who makes this composition really knows what's inside."
P use was limited by its poor image but Ecstasy was not, so the market for anything being called Ecstasy was lucrative, Day said.
"You import a kilo of powder for about $5000. A kilo can make up to 10,000 tablets, and each of those tablets can then be wholesaled at $6 a tablet."
Drug enthusiasts contacted by the Herald on Sunday said there were plenty of mephedrone-based pills on the streets.
Day also said newer synthetic drugs, similar to the "bath salts" seen in the US, were linked to new operators and short-term dealers, not established gangs.
"I wouldn't say there is an immediate connection to gangs. And that is concerning. We're talking about people who are willing to take the risk of starting up a franchise and establishing a network to push drugs into new areas."