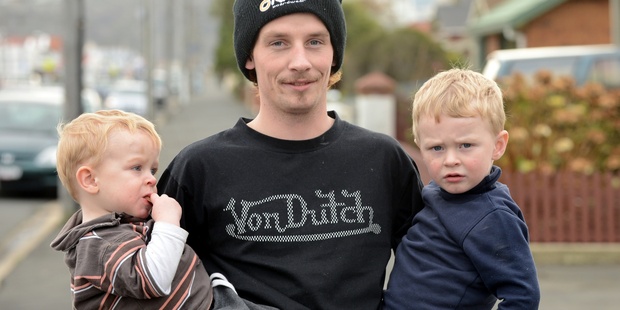 Home unharmed - Benjamin Bryant, 22, holds his sons Jake, 2, and Cooper Wells, 1, who were taken for an unexpected high-speed drive by a drink-driver. Photo / Otago Daily Times
Jake Wells does not remember his parents' car being stolen, nor it being driven at speeds up to 150km/h before it crashed.
But he does remember one thing.
"That naughty man did it," the almost 3-year-old told the Otago Daily Times yesterday.
Jake and his brother Cooper, 1, were asleep in their car seats after visiting their mum and new baby brother at Dunedin Hospital on Wednesday night.
Their dad, Benjamin Bryant, 22, parked outside the Mobil Forbury service station at 10.20pm to get a drink, while his mate stayed in the passenger seat to look after the children.
"I was grabbing the drink out of the fridge and saw my mate walking in, and then I noticed my wheels driving away," Mr Bryant said.
"My first instinct was not the kids, I didn't think of them or remember them straight away ... just my wheels."
It was only after running on to the forecourt that he realised his two boys were in the rear of the car being driven down Hillside Rd.
"I pretty much went nuts, yelling to the guy behind the counter to call the police", as he ran after the car.
Mr Bryant said he thought the pair had been kidnapped by the "dodgy" looking man he had passed on his way into the service station.
Dramatic CCTV footage shows a drunk man entering the store to talk to the employee before leaving without buying an item, while moments later an upset Mr Bryant can be seen motioning that his car had been stolen.
Mr Bryant said he was shocked to learn from police that a witness had clocked the car being driven erratically while reaching speeds up to 150km/h on State Highway 1 south.
The same witness saw the driver flee the scene moments after the car crashed south of the Saddle Hill overbridge near Mosgiel, and then discovered the two boys - believed to be still asleep - in the back seat.
"I would just like to say thank you to that person," Mr Bryant said.
The offender, who received a small cut to his face in the crash, later returned to the scene and was arrested.
He recorded a breath alcohol reading of 1147mcg of alcohol per litre of breath - more than two and a half times the legal limit.
Mr Bryant said the boys were checked by St John Ambulance staff and were found to be unharmed, which police attributed to them being safely restrained in their car seats.
It was early yesterday morning when he told his partner Rennae Wells, 22, about the theft and that the boys were safe.
Unfortunately for the couple their only car, a 1999 Subaru GT, was written off in the crash and the $7000 vehicle was not insured.
Mr Bryant said he did not think the man knew the kids were in the car, but must have realised at some point on his 10km joyride south. And his message to the man?
"If you are going to steal a car, first check kids aren't in the back, I reckon."
While he was still angry at his friend for not staying with the boys, he reminded other parents to lock their vehicles at all times.
Acting Senior Sergeant Tania Baron said it was fortunate a much more serious and tragic outcome was averted, given the road conditions and dangerous speeds just moments before the crash.
A 25-year-old Invercargill man who was expected to appear in the Dunedin District Court yesterday afternoon was given a registrar's adjournment until mid-July.
He faces charges including driving with excess breath alcohol, unlawfully taking a vehicle, and dangerous driving.