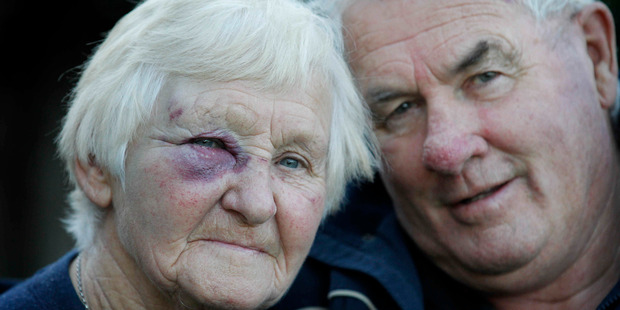 Bob Gabolinscy never realised his forehead was streaming with blood after a group of young men attacked him with a pack of pre-mixed drinks outside his home late at night.
He was too worried about rescuing his wife Margaret, who tried to reason with the men - and got a punch in the face and a black eye for her trouble.
Mr Gabolinscy was shutting the front gate on his Weka Place property in Tokoroa about 10pm on Thursday night when he heard three young men punching the fence that separated a walkway from their home.
The 73-year-old says he turned to the men and said: "Don't you have any respect for people's property?"
In response, the men walked over to the gate he was standing behind and started kicking it. They were each carrying a box of a dozen cans of Cody's pre-mixed bourbon and cola.
Mr Gabolinscy screamed at them to stop. As he walked inside to call the police, the men started hurling full cans of the alcohol at the back of his head, leaving a nasty gash.
"They chucked about 12 or 14 at me," Mr Gabolinscy said.
Mrs Gabolinscy, who was inside putting wood on the fire, walked out to confront them.
"They were yelling and still chucking cans and I said, 'Look, go away'," she said.
"They were yelling, 'Come out, you old man'."
Then the largest man in the group, who Mrs Gabolinscy described as a "heffalump", walked up to her and punched her right eye.
The 75-year-old fell back on to the couple's car, sliding down and hitting her elbow as she landed on the concrete driveway.
She was dazed and blood was streaming down her face. She now has a black eye and the right side of her face is covered with a purple bruise.
Mr Gabolinscy walked outside, was horrified to see his wife slumped on the ground and began screaming and swearing at the men.
The men ran off up Weka Place leaving cans scattered over the couple's lawn. Police later found another full box of Cody's on a verge across the road.
A neighbour found the distressed couple in a state of shock. Mr Gabolinscy had been so concerned about his wife that he hadn't realised he had a large cut on his head.
The couple were taken by ambulance to Tokoroa Hospital to be treated. They returned home two hours later.
The grandparents of five told the Weekend Herald the incident meant they no longer felt safe in their own home of 22 years.
"Our lives are threatened. I'm too scared to go out my back door. They know where I live," Mrs Gabolinscy said.
She lay awake until 2.30am on Friday morning replaying the scene in her head and was still visibly shaken by the attack.
Mr Gabolinscy said the incident would teach them not to intervene.
"You don't expect that when you shut the front gate."
When the assault took place, the couple had just returned home from dinner at the Tokoroa Cosmopolitan Club.
Their daughter stayed with them on the night of the attack and they spent yesterday afternoon surrounded by concerned family.
The long-term Tokoroa residents are part of the town's Citizens' Night Patrol, aimed at keeping the street safe, and both still work.
Mr Gabolinscy is a storeman, and his wife works as a toilet attendant.
Police are calling on the public for information that could help track down the culprits after police sniffer dogs lost the trail several streets away from the scene.
The Weekend Herald understands police took some of the drink cans to finger print.
Tokoroa police Senior-Sergeant Graeme Hill said it was a cowardly, horrific attack. "What could a 70-year-old couple provoke? It doesn't matter what you say, there's no justification for doing what the guy did ... they are on their own section and regardless of whether they told them to bugger off or whatever, it's unjustified whatever way you look at."
Police were also aware of a party earlier in the evening on Balmoral Drive, which can be accessed from Weka Place using the walkway.
Meanwhile, the Gabolinscys are hoping South Waikato District Council will finally take notice of their calls to close the walkway, which has no street lighting, after six years of asking.