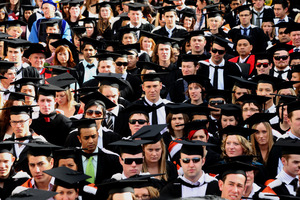 Treasury expressed concern about the Government's plan to raise student loan repayments, budget documents released today show.
Budget 2012 background papers revealed Treasury felt the move to increase student loan repayment rates by 2 per cent was "poorly targeted'' and would penalise low-income graduates and young workers.
In an attempt to reduce $11 billion of student loan debt, the Government raised the loan repayment rate from 10 cents to 12 cents for each dollar of income above $19,084 a year.
Although Treasury was broadly supportive of the tertiary education proposals, it said the aim of this policy was to extract greater repayments from borrowers who could afford to pay back at a faster rate.
Treasury said it would instead impact on borrowers with good repayment histories and anyone earning more than $19,000, including people earning near the minimum wage.
Treasury also said there was a lack of analysis on the potential effects of the higher repayments on the Effective Marginal Tax Rate, or the effect of a new cost to people's income tax.
It said the impact of a 12 percent repayment rate would be much more significant than an 11 percent repayment rate.
"Over the forecast period, this will extract over $400 million of value from largely young, newly qualified workers, and is likely to have an impact on behaviour that has not yet been fully analysed.''
Green Party youth spokeswoman Holly Walker said this meant Government had not properly researched whether the changes would prompt graduates to move overseas or defer home ownership or children.
Her party wanted New Zealand to follow the example of Australia, which gradually raised repayment rates to reflect rising incomes.