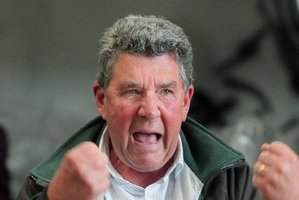 Stories making headlines across New Zealand at noon include Paul Holmes having some very odd nightmares, every parent's worst nightmare, and a fraudster who got a job in a bank while on home detention.
Paul Holmes has been having nightmares about Queen Elizabeth II ordering him to fix tail-guns on broken-down World War II bomber planes for her Jubilee.
Meanwhile in Dunedin a father paying for petrol watched in horror as a drunken man jumped in his car with his baby and toddler in the back seat and tore off at speeds of up to 150km/h. The man has been arrested.
In Christchurch, a notorious fraudster has managed to get a job in a bank under another name while on home detention for 20 fraud convictions.
One wonders if the cops who raided Kim Dotcom's house saw this picture of him waving a big shotgun around in front of a car with the license plate "Guilty".
The spate of cats getting stuck behind kitchen units continues.
As the Kaipara council grapples with massive debt, councillors are clinging to their free lunches.
Gabriel was named after a stripper who was executed for spying.
If you are visiting Auckland, here's a guide to the birdlife. This is particularly useful for The New Zealand Garden Bird Survey.
Google apps are telling our schoolkids what to do in class.
Three people are dead following a crash near Hamilton.
Now Rotorua MP Todd McClay wants to ban gang patches. Over in Wanganui there's a big discussion about such attempts.
$72,000 would have bought you this bull.
Nearly 2000 Gisborne folk have signed a petition asking the council to notify the public about any mining-related resource consent applications. Meanwhile Gisborne has a "disgraceful" rate of burglary
A pregnant Hastings mother has admitted to a "particularly mean" theft.
Lone voice Michael Laws has lost a battle. Meanwhile the 40th anniversary of James K Baxter's death on October 22 is set to be observed throughout Labour Day Weekend.
Winston Peters has been spotted in Stratford.
The man who led police on a 50-minute foot chase across farmland in Masterton has been named. Meanwhile Masterton charities could be losing up to $2 million to fraud each year.
Flight of the Conchords are giving away a T-shirt but Kiwi's aren't invited which is probably just as well because you may need a lawyer to interpret the entry conditions.
A Christchurch man managed to walk away from this wreck with only a bruised leg.
Three piglets in Hinds have been named after popular biscuits.
Strong winds have blown the steeple off Sacred Heart Church in Northeast Valley but it could have been much worse.
Victoria Leigh Mullany has been helping herself to the till of the Cadbury's on-site staff confectionery shop since 2008.
Over in Queenstown they are worried about Hokitika Airport's expansion plans.
The cost of a memorial to 380 dead West Coast miners has blown out.
Trending topics on Twitter in NZ at noon were: Nadal, #ShoutItOutToNumberOne, Obamacare, Anthony Davis, #CMakl, Novak, Snoop Dogg, Rosol, #tired and Alicia Keys - New Day