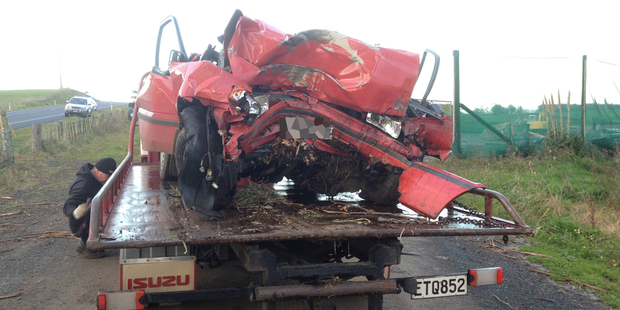 Alcohol may have contributed to a crash near Hamilton this morning that left three men dead and a fourth in a critical condition.
Three men in their teens or early 20s died at the scene on Gordonton Rd after their car left the road and hit a tree about 5am, said police.
A fourth man, in his 20s, was taken to Waikato Hospital in a critical condition.
There was a "very strong smell of alcohol'' from the vehicle and a number of alcohol containers inside it when police arrived at the scene, said Waikato road policing manager Inspector Leo Tooman.
"It appears that this crash could have been totally avoidable as far as we're concerned. However, we have to do enquiries but it's just another example of the tragedy of three young men losing their lives on the roads.
"It's a tragedy, particularly for the families but also for our staff who have to go and knock on the door and tell them their son won't be coming home again,'' he said.
The Nissan Centra was travelling around a gentle left-hand onto a straight stretch of road, when it left the road and and collided with a gumtree, about 3m from the edge of the seal, said Inspector Tooman.
A member of the public who saw the car crash called emergency services at 5.05am.
The road had a 100km/h speed limit.
It appears the four men were heading to Auckland, said police.
The section where the incident happened was not a bad crash site, but a stretch further down Gordonton Rd had claimed a number of lives, said Inspector Tooman.
However the vehicle, environment and driver were all factors in crashes, he said.
"I don't think we can always blame the road. If a driver makes an error, a mistake, and the environment is not very forgiving for him then the consequences are fairly drastic.''
The last alcohol-related death on Waikato roads was seven months ago and it was "very frustrating'' trying to get the road safety message across to young people, said Inspector Tooman.
Serious crash officers investigating the cause of the incident.
- APNZ