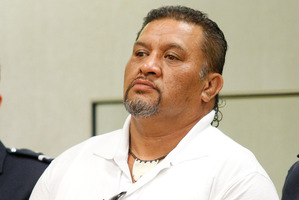 A former Waikato prison guard could face jail time after entering a surprise guilty plea to charges of smuggling methamphetamine, cannabis and drug paraphernalia into jail for inmates.
Kokiri Kihirini Junior Ronaki will reappear before the Hamilton District Court in August for sentencing after his trial, set down for three days, ended suddenly yesterday when the 43-year-old entered a guilty plea.
Ronaki pleaded not guilty through his lawyer Paul Mabey, QC, to charges of possession of cannabis and methamphetamine for supply and bringing a glass pipe into a prison when his trial began on Wednesday.
But after a few hours of evidence yesterday in which the court heard more phone conversations from inmates who spoke in coded messages to their contacts outside to try to secure drugs, the former prison guard changed his stance and admitted the charges.
Ronaki could be seen frowning through much of yesterday's evidence, which included inmates' recorded conversations between December 2010 and July last year referring to "Barry White CDs", "patches" and "colours" - code for drugs they wanted brought into prison.
At least one conversation identified Ronaki by name.
As Ronaki quietly admitted the charges from the dock, some people in the public gallery wiped their eyes and quietly sobbed.
The charges were laid on July 13 last year after a Corrections drug-dog handler, a prison manager and a Te Awamutu detective stopped Ronaki as he began his early morning shift, on the suspicion that he was carrying drugs.
They found 3.4g of cannabis, methamphetamine and a glass pipe with some other paraphernalia in his black backpack.