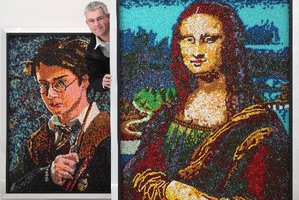 Stories making headlines across New Zealand at noon include a potentially ugly development over oil exploration in Hawke's Bay, a man tries to beat a drink driving wrap by scoffing tobacco and an alleged ghost may come to regret apparently attacking a member of a paranormal group.
In Hawke's Bay oil country, police are investigating whether there's a link between a little defenseless dog brutally getting its throat slit and tensions over oil exploration and fracking in the region.
Whangarei man Hautonga Steven Koroheke decided to try fooling a breath testing machine by filling his mouth with loose tobacco.
Members of a Dunedin paranormal group are heading down to the Globe Theatre this weekend to sort out an alleged ghost who apparently attacked one of its members.
Jelly bean lovers can now taste exciting new flavours such as baby wipes, dog food, mouldy cheese, toothpaste and rotten eggs while gazing upon artworks made of 61,042 jellybeans. No word on a Nexus 7 flavour yet.
The Internet and iTunes are being blamed for wiping out the last music store in Rotorua while online shopping is also being blamed for a surf and streetwear store in the city closing down.
There are threats of civil disobedience in Mangawhai.
When Mickey the 6-year-old tomcat tumbled from the top of 2-metre pantry, Margaret Godfrey dialled 111.
Truckies are in crisis, with many apparently taking shortcuts, running bald tyres, breaking driver regulations and in some cases using stimulants to get through.
Tauranga tobacco retailers are taking "radical steps" to comply with new cigarette laws that come in to force soon.
Whakatane's Courtney Abbot has scored a major role in a new show with Emmy award winning directors.
For 40 years, Jack Collins kept a secret about an unsolved Rotorua murder.
Two men were having a great time throwing vinyl LPs off the top of Te Mata Peak in Havelock North until the cops showed up.
When a police car activated its lights and sirens a 20-year-old Napier motorist decided to increase his speed from 162km/h to 180km/h.
There's a "ready market" for stolen electronics in Gisborne.
Meanwhile in Wanganui the Hells Angels Motorcycle Club have lawyered up and are fighting a new attempt to ban gang patches because they say it will be harder to identify rival gang members to beat up.
In rural Masterton, police spent nearly an hour chasing a man on foot across farms and rough ground.
The Christchurch Earthquake Appeal Trust has granted funding to its first substantial recovery project in Kaiapoi.
Ashburton cyclist Hayden Roulston is dealing with his devastation and anger. Meanwhile the local Red Cross opportunity shop has been shut down due to seismic risk.
Former mental health consumer adviser Graham Roper has resigned because of continued off-label prescribing of ketamine despite the practice being under investigation.
Despite the police minister crushing a car and standing on it in her high heels, boy racers are still scaring the residents in Warrington.
One hundred years ago James Craig gifted a lovely fountain to the people of Oamaru, but he's probably rolling in his grave over the current state of affairs.
A lot of New Zealanders may not realise it, but places such as Greymouth, Westport and Hokitika often share similar winter temperatures to New Plymouth and Auckland. But not at the moment.
Top trending topics on Twitter in NZ at noon include #discopants, Nexus 7, Jelly Bean, #lwbso, Muse, Raf, Back to the Future, Spaniards, Tony Robbins and #leadership.