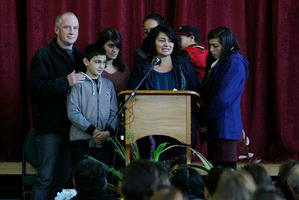 Paeroa's hard working "pizza man" would not have gone down without a fight when approached by his killer, say his family.
Ten days after Jordan Voudouris was found dead outside his business, his family have spoken publicly for the first time about the much-loved "Papa" or "Papous" who had been making pizzas for decades and thrived in his adopted town.
The family returned to the town yesterday for a public memorial service and later met police who escorted them back to the store on Paeroa's main street to collect some of his personal belongings.
More than 1000 mourners crowded into the Paeroa War Memorial Hall to remember the town's best pizza maker, who would always throw in extra hot chips for school students and make sure the street kids didn't go hungry.
Mr Voudouris' brother-in-law Mike Burke said after the service that he believed the man who always shared a joke would have put up a big fight before his death.
"He would have been babbling on in Greek and chasing them [his killers] out the door. Unfortunately Jordan's not a big guy and maybe he's come to an end that way."
The family - including Mr Voudouris' three children, Sofia, Mia, Spyros and stepdaughter Carrie - were still coming to terms with the loss of their father, who they were very close to and saw every Monday when he travelled to Auckland.
Mr Burke said he could not believe it when he learned of Mr Voudouris' death.
He urged people who knew anything about the killing to come forward for the children.
Mr Burke said devastation was written all over their faces.
"We've been focusing on grief, our loss. We haven't been focusing on anger - although that has come into it with the kids as you can imagine they've lost their papa.
"It's really been sticking together as a family and everyone supporting each other. We have confidence in the police, we have confidence in this community, that these people will be caught."
Several years ago all the shop windows on Paeroa's main street were smashed except for the pizza shop and Mr Burke believed this was due to his generosity to the street kids.
Mr Voudouris moved to Paeroa about eight years ago after separating from his partner and chose the town because there was a vacancy where he could set up a pizza shop. The rent was right and it was close enough to Auckland to see his children.
He moved to New Zealand from Greece in 1982 and his brothers Niko and Kristo ran pizza parlours in Auckland.
The mother of Mr Voudouris' children and his ex-partner, Gwendoline Richmond, supported by Mr Voudouris' children, told those gathered for the service that he had a "great zest".
He would want to be remembered for his cheekiness, laughter and smile. The family thanked the community for the flowers, cards, caps and tributes which they would treasure.
Mr Voudouris was a strong supporter of the town's youth, employing far more staff than anyone felt he could afford.
One of his employees, Alice Proudfoot, spoke of a "serious little man with a big heart", while Rebecca Laurence recalled his rude insults, secret recipes, hat collection and "crazy 60s dance moves".
Positively Paeroa business association spokeswoman Anne Harris said Mr Voudouris took young people under his wing, teaching them life lessons as well as cooking and hospitality.
She said he had a love of life and a generous spirit and his death had left a big gap in the town.
Hauraki Mayor John Tregidga said the community was "in disbelief" and struggling to come to terms with the tragedy.
"Every business person should be able to feel safe in their environment. We are all sharing a huge amount of grief that this has happened to our community."