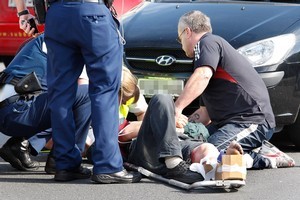 The most serious charge against a senior market analyst accused of running over another motorist during a road rage incident has been dismissed by the judge at his trial.
Guy Hallwright, who works for investment banking company Forsyth Barr, has pleaded not guilty to causing grievous bodily harm with reckless disregard.
He was also facing the more serious charge of causing grievous bodily harm with intent to injure.
But after a discussion in chambers, Judge Raoul Neave told the jurors that given the evidence before the court it would not be safe for them to consider the more serious allegation.
Hallwright was charged in relation to an incident in Auckland on the morning of September 8, 2010 as he drove his daughter to a recording studio.
Crown prosecutor Ross Burns earlier told the trial the incident began at the intersection of Mt Eden Rd and Symonds St.
He said fists and finger gestures were exchanged between Hallwright and another motorist, Sung Jin Kim, after a traffic light change.
Through a Korean translator, Mr Kim said he and Hallwright turned into Mt Eden Rd before both cars stopped.
He said Hallwright walked up to his car, opened Mr Kim's driver's side door and slammed it.
Mr Kim said he got out of his car and walked towards Hallwright's car which was parked in the entrance to the carpark of the Galbraith's Alehouse.
He said Hallwright's car hit him with the ``first attack'' and he was pushed forward with his hands on the bonnet of Hallwright's car.
Mr Kim said Hallwright then drove off.
He suffered two broken legs and a shattered left ankle that required reconstructive surgery. Mr Kim still has pins in his legs and has difficulty walking.
The jurors today heard further details of Hallwright's 111 call moments after the incident.
Hallwright sounded calm as he told the police emergency calltaker how he had driven over the man.
"He came to the car to try and attack me and I just drove through him,'' he told the calltaker.
He said an "Asian guy'' had tooted at him at the traffic lights before he had given "the finger''.
The calltaker told him it was "frightening that it has to come to this'' and asked how he was.
"We're fine,'' Hallwright replied, after giving his name, phone number and address in the upmarket suburb of Parnell.
He told police he had to take his daughter to a recording studio and asked them to come back to him later.
"If they could come back to me and with it then, it would be really good.''
The 111 caller said road rage was getting common.
Hallwright finished the call by saying: "I just don't know why I reacted this way, I mean, it was so stupid.''
Moments later police called Hallwright back on his cellphone to ask him to return to the scene.
"We need to deal with it right now ... It will be worse if you don't.''
Hallwright agreed to return.
The trial is due to end this Friday.
- APNZ