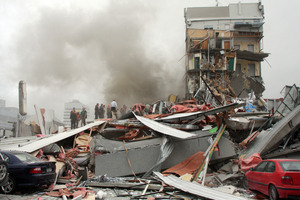 Crushed cars may have sparked the blaze which engulfed the CTV building after its February 22 collapse, a hearing has been told today.
A rescue worker and trained structural engineer, who arrived at the disaster site 30 hours after the collapse, believes the fire may have started in cars in the ground floor car park.
Urban Search and Rescue (USAR) support engineer Graham Frost told the royal commission hearing this morning that six cars removed from the building during the recovery stage in the immediate disaster's aftermath were all burnt out.
"I think it's possible the fire started in these vehicles,'' he said this morning.
He believed the cars would have provided the fire with a fuel sourced for "some time''.
Mr Frost spent five days at the site collating evidence he knew would be crucial for investigating authorities to later establish how it failed and caused the deaths of 115 people.
Mr Frost said that it was obvious that the six-storey office block had failed in "a very non ductile fashion''.
He felt it was his professional obligation to record the condition of the building in its collapsed state.
Mr Frost told the commission he was concerned the diggers and other machinery working on the rescue and recovery might destroy "crucial evidence'' that would be vital in later trying to establish the cause of the building's catastrophic failure.
While his primary role was to minimise the risk of danger to USAR and police teams working on the rescue and recovery, he spent five days taking photographs and making careful notes.
He took several photos capturing specific building details, connections and recording the collapse condition from various angles which would be "of interest to anyone investigating the building collapse at a future date''.
The Canterbury Earthquakes Royal Commission hearing into the failure of the CTV building on February 22 last year started on Monday and is due to last eight weeks.
- APNZ