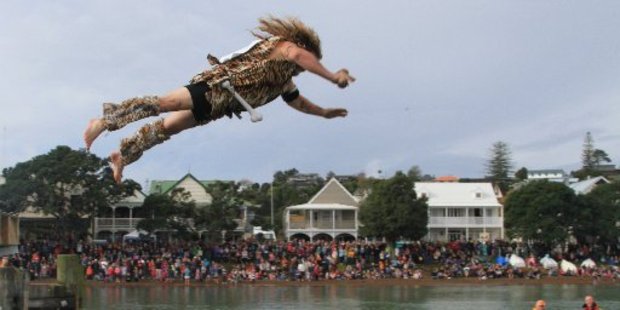 Stories making headlines across New Zealand at noon include the accused threatening to bash a juror in the head, an old soldier is laid to rest, Supreme Birdmen and a worrying number of armed robberies going down in Whangarei.
In Greymouth during a boozy lunch break in his trial by jury, Shane Hape Woods yelled at a jury member "Not guilty or I'll bash your f...g head in."
Bill Pitman survived the horrors of El Alamein and Monte Cassino during WW2 after enlisting in the 28th Maori Batallion at just 16 years of age, and yesterday six of his grandchildren carried his body from the Ngunguru Marae after his final farewell.
Most birdman competitions are held during the balmy summer months, but the nutty Northlanders like to do things differently.
A terrified Whangarei couple and their 9-year-old son had to watch as armed robbers raided their shop while one of the men waved a metre-long machete at them.
Text messages on William Roy May's cellphone indicated there was cannabis dealing going on from his Lake Rotoiti home which could only be accessed by boat.
Sam Hunt is in for some competition from this young bard.
A Kaitaia man told police he was pleased he had finally been caught drink-driving because his missus would be happy.
Friskies has come to the rescue of a voluntary cat shelter in Dargaville.
A former Kaitaia lawyer has been struck off the roll of barristers and solicitors.
Baby Levi has just become the fifth living generation of McMahon men.
How many of the 1000 Rotorua buildings being assessed under the Earthquake Prone Building Policy will need to fork out on strengthening work?
Watch out for men blowing up cliffs about 17km west of Tauranga near the Ruahihi Power Station.
Paul Holmes has returned to Hawke's Bay Hospital.
Have you seen this man?
Six horses died in steeplechase events last year.
Win tickets to see Flight of the Conchords!
Meanwhile in Wanganui, Jahmal Woon Kereopa didn't believe a man walking home after a fancy dress party was wearing a costume and proceeded to beat and kick him senseless.
Talk jockey Michael Laws has failed to generate much support in the annual Reader's Digest Most Trusted poll but says it is "not to be taken seriously."
Aranui schoolchildren in Castlecliff have been gifted a footpath.
Over in Masterton, a killer pitbull is still out there.
An angry Christchurch shop owner says criminal youths are allowed to do "whatever the hell they want. There's no consequences. There has to come a time that enough is enough."
Here's what one of the Cave Creek disaster survivors is up to.
When an Ashburton College student suffered nausea, had difficulty breathing and then had a seizure at school, it turned out he had been using synthetic cannabis.
Meanwhile the derogatory tag Ashvegas no longer applies, according to Alan Dick.
A lucky Lotto ticket sold at Tinwald SuperValue for Saturday night's draw has yet to be claimed.
At Butterflies Hospice Op-shop in Dunedin they have been forced to chain fur coats to the wall.
Minister of Education Hekia Parata has been unavailable for comment to explain why a school she is closing in Dunedin was not the first to know.
Top trending topics on Twitter in NZ at Noon included: #nzsomo, #NZCIO, #chathamcup, Auckland, Christchurch, Wellington, Google, Facebook and Twitter.