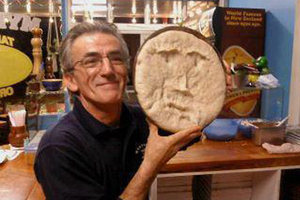 Police are investigating whether the vandalism of memorial items outside slain pizza-maker Jordan Voudouris' restaurant is connected to his death.
A number of his former staff held a vigil outside the Mykonos Pizza and Pasta store in Paeroa on Saturday night for what would have been Mr Voudouris' 56th birthday.
But the balloons, candles and other memorial items they left leaning against the shop were destroyed after they left.
"We were gone for about 10 minutes and some hoons just came in, popped the balloons, kicked the candles over ... just people being a pain in the arse," said a staff member.
Detective Senior Sergeant Michael Whitehead said police were following a number of lines of inquiry.
"We are following up as to who may have caused this damage and whether or not there may be any connection to his death.
"This development is another part of the puzzle that may or may not be directly connected to Jordan's death."
Mr Voudouris' body was found behind the restaurant on Monday a week ago by his neighbour, leaving the tight-knit community in shock and sparking a homicide investigation.
Mr Whitehead said police had not confirmed a motive for his death but believe it is "highly likely" that the information they are looking for is held within the Paeroa community.
"That's why it's still extremely important that anyone with information that could help us makes contact with the police. Even the most seemingly insignificant piece of information may be the vital clue that leads us to the killer."
Mr Voudouris' funeral was held yesterday at an Albany church with a number of his friends making the trip from Paeroa to say farewell.
His family have asked for privacy since his death but said through the police that their hearts were broken as they grieved for their beloved Pappa, a father of three.
"Our pain is indescribable," they said.
"You have taken from us our wonderful, loving, caring, funny, gentle Pappa and Papous. You have altered our lives, and taken our hopes and dreams. You have taken from a community a generous, kind, giving businessman.
"With our hearts we plead to the public for help. If anyone has any information to help the police with their investigation please, please come forward."
The results of a post-mortem examination have not been released and police have not described Mr Voudouris' injuries or their possible cause or whether there was any link between his death and two aggravated robberies in Waihi and Katikati.
A memorial service for Mr Voudouris will be held at the Paeroa War Memorial Hall at 12.30pm tomorrow.