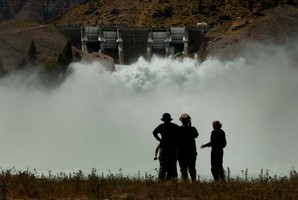 The partial sell-down of state-owned power companies will likely be a done deal before any referendum on the controversial plan is complete, Prime Minister John Key says.
Legislation allowing the Government to forge ahead with its plan to sell up to 49 per cent of Mighty River Power, Meridian Energy and Genesis Power is to pass its third and final reading in Parliament this afternoon.
"From there we can go through the process of putting together a marketing campaign and all the fun on the first offering on Mighty River Power," Mr Key told Newstalk ZB yesterday.
The Government hopes to sell shares in Mighty River by the end of September this year.
"There are always things that can trip you up along the way, legal risk is always still there but overall in principle we should be okay."
That legal risk includes the outcome of an urgent hearing of a claim by the Maori Council and 11 others that the sales breach the Treaty and a more general claim that the Crown has denied or violated rights over freshwater and geothermal resource due to take place on July 9.
Central North Island iwi Tuwharetoa has also indicated it is considering legal action over the sale plan.
A petition seeking to force a referendum on asset sales now has about 100,000 signatures - one-third of the way to the 310,000 required.
But Mr Key said yesterday the petition still had some way to go.
He said the names on the petition would have to be carefully vetted and even if a referendum happened "it could well come back at a time where the three power companies have all been brought to the market".
While he wasn't "100 per cent confident" of completing the asset sales programme - including coal company Solid Energy and Air New Zealand - in the current term, his Government was "pretty committed" to selling off two other companies after Mighty River, putting either Meridian or Genesis next on the block.
Mr Key said while he accepted the findings of a Herald on Sunday poll which suggested two-thirds of New Zealanders were against the asset sales, "it also says roughly that two-thirds of people are interested in buying the shares and it shows National's polling result above election night".