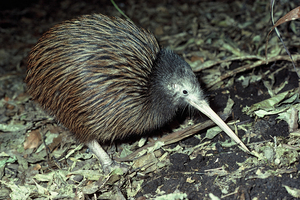 Residents in the Bay of Plenty have been reminded about the threat vehicles and dogs pose to kiwi after two kiwi were killed in a week.
A pathology report on a kiwi found dead by Opotiki residents earlier this month confirmed a dog attack as the cause of death while a kiwi died after being hit by a car in Whakatane.
Department of Conservation community and biodiversity ranger Bridget Palmer said the deaths were very disappointing.
"Kiwi populations will die out unless positive action is taken to minimise deaths by dogs and motor vehicles," she said.
"The majority of kiwi handed into the Department of Conservation have been killed by dogs. Kiwi are extremely attractive to dogs. They smell really good, they run fast when chased and they can't fly. Because kiwi don't have a breastbone, even a playful nudge can kill them."
Ms Palmer said pet dogs could also kill kiwi.
"Even dogs that are very placid in nature have been known to kill kiwi."
She said kiwi were also vulnerable to vehicles as they crossed roads to neighbouring habitat.
"Wairere, the 2-year-old kiwi found on the side of the road just below Kohi Point last week, is well known by Kiwi Project staff and volunteers. She was blessed at a ceremony held at Ohope Beach School on the 20th January 2011 and later released into Kohi Point," Ms Palmer said.
"I knew it was only a matter of time before one of our kiwi was hit by a car. I had hoped I would be wrong. It would be devastating if all the hard work undertaken during the last 11 years by Whakatane Kiwi Project partners and volunteers was undone because people didn't take the Kiwi Crossing or Kiwi Zone signs seriously."
Ms Palmer said she hoped the latest deaths would help raise awareness about the endangered national bird.
"The key is that dog owners need to be responsible and keep their pets on a lead. People need to understand that kiwi can be half a metre off the track or road sheltering under a bush," she said.
"Kiwi have a very strong scent so dogs can find them by day or night and they are defenceless against dogs."
For more articles from this region, go to Rotorua Daily Post