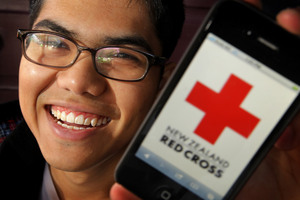 Juggling a conjoint law and science degree with part-time work shouldn't leave the average student much time for anything else.
But Jason Sebestian, who has been nominated as the Volunteering Waikato 2012 Youth Volunteer of the Year, spends an average of 40 hours a week helping out on community projects.
From Malaysia, but a Hamilton resident for the past five years, the 21-year-old mentored younger children in reading programmes as a student at Hamilton Boys High School but never gave volunteering much thought until he enrolled at university.
His voluntary work is with the local branch of the Red Cross, and Aiesec, an international youth leadership group.
Although there is no money in it and the demands on time are steep, Mr Sebestian, who plans to eventually work in a not-for-profit organisation "when I'm older", said there were definite rewards.
"In a selfish kind of way you do learn a lot of new stuff, it's challenging and you get new skills plus it's just good to help people who need it.
"You do learn a lot of practical skills that may be equal in value to stuff learned on paper except you don't get paid.
"You get to deal with people, which is a good skill to have. Other than that, if you have the time why not help out the community?"
Volunteering New Zealand's chief executive, Vanisa Dhiru, said Mr Sebestian was among a group of young leaders that was "doing great things and bringing others with them".
"Community healthcare, sports and recreation clubs, heritage and arts, environmental protection and advocacy, disaster relief, international development, and volunteer fire fighting - the list is endless.
"Young people will tell you what works when it comes to giving time to a cause - it's not up to organisations to decide how they will engage younger volunteers - they will be left behind," Ms Dhiru said.
Research provided by Volunteering New Zealand showed doing volunteer work could help individuals secure paid jobs.
Forty-one per cent of respondents to one study reported that their volunteering had helped them get their current job.
Sam Johnson, co-ordinator and founder of the University of Canterbury "student army" during the earthquake clean-up, believes more of Generation Y would like to be involved in volunteering but need help to achieve the goal.
"We find that when we actively create paths to involve more people, creating relevant and tangible things they can achieve without long-term commitment, we build bigger teams."