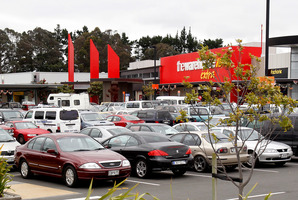 Work on a new set of traffic lights outside Hamilton's The Base shopping centre is likely to begin within a month, and be finished probably before the end-of-year sales that last year caused jams and delays for motorists and shoppers.
Bargain-hunters going to last year's Boxing Day sales and motorists just trying to get past The Base in Te Rapa were caught in long traffic jams as traffic locked at a roundabout on State Highway 1 outside Hamilton's biggest shopping centre.
Police urged shoppers to park away from The Base on Te Rapa Rd as 40,000 people - double the usual weekend figure - tried to snap up a deal.
Surrounding roads became blocked with traffic backed up for hundreds of metres past Avalon Drive and Tasman Rd, causing delays of up to 45 minutes in some cases.
Hamilton City Council's finance and monitoring committee will meet tomorrow to discuss the awarding of a contract to deal with an outdated roundabout on State Highway 1 and the Base Parade.
The contract, for the installation of new lights replacing the roundabout, is to be awarded pending the resolution of several outstanding planning and land matters.
The council's finance and monitoring committee chairman, Dave Macpherson, believes work should start within a month.
"The plan is to finish it by the start of December ... we are a little bit nervous about that ourselves which is why we are asking about the start and finish date."
The Base, the NZ Transport Authority and the Hamilton City Council are contributing to the project, which is expected to cost up to $4.5 million.
Mr Macpherson said this remained a sore point for some councillors, who believed the council should not have to contribute because the required works were on a state highway and much of the traffic was being generated by The Base.
"But you never get away from NZTA projects without putting something in," he said.
"We are even putting a contribution in for the Te Rapa bypass next door to it as well.
"It remains a bit of a sore point that we are having to to get these things done."
Mr Macpherson said traffic engineers could not foresee the problems caused at the roundabout because they had no conception of when people would use The Base or what its peak load times were.
"It's okay for lots of the time, but impossible for some of the time. It wasn't designed to meet some of the load so this has finally been acknowledged by NZTA and Tainui.
"Once traffic gets a run on in one direction everyone else gets stopped ... which is why you need lights to regulate things a bit."