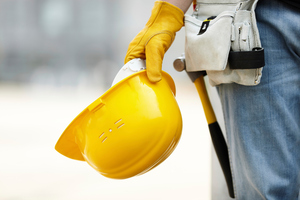 A growing number of homeowners are refusing to pay builders as they hold out for negotiated prices or as a reaction to work dragging on or final costs that are higher than the quote.
Builders' groups say they are being held to ransom by customers refusing to pay their final accounts, often in an attempt to negotiate a lower price.
A survey by the Master Builders Associationfound half of builders say they have not been paid by a customer at least once in the past five years.
The association surveyed 593 builders, sub-contractors and civil contractors and reported a growing trend of customers withholding payments.
The vast majority of those polled (78 per cent) said there had been fewer than five instances of not being paid in the past five years, but 18 per cent had not been paid up to 20 times over the same period.
The main reasons for non-payment were the customer going into liquidation or receivership (15 per cent), others being paid before them (13 per cent), client dissatisfaction with the work (13 per cent) or the client waiting on a loan (9 per cent).
The rest did not know why they were not paid.
Master Builders Association chief executive Warwick Quinn said economists had calculated the cost to be about $225 million to the industry every year.
But Home Owners and Buyers Association president John Gray said unhappy clients were just trying to level the playing field.
Mr Gray said many customers who contacted his group had genuine reasons for withholding money.
Some builders quoted a very low price for renovations and once they'd won the job with the lowest quote, added extra costs to the finished product.
"They price it really low to get the consumer to pick them and they take advantage of the owner because they know that the scope of the work will blow out because certain things haven't been specified.
"And they know they can charge almost what they like to recover their margin."
Mr Gray said builders who did poor renovations created more headaches.
The customer didn't want them back and other companies were reluctant to fix the problem in case they became tangled in a web of liability.
Certified Builders Association chief executive Grant Florence said a growing number of customers were disputing even written agreements.
"I don't know whether it's a function of the tough economic times or whether it's people who perhaps over-commit themselves [to a building project]," he said.
"Often I think ... people over-commit themselves and try to use non-payment to the builder, who's put his heart and soul into it, as a way of reducing their costs."
Mr Florence said sometimes tens of thousands of dollars were not paid to builders for projects ranging from entire homes to extensions or alterations.
"It affects their whole livelihood, it affects their ability to put food on their family's table and to pay their mortgage."
He acknowledged that in some cases, customers had legitimate concerns about their builders but said the latest trend was to refuse to pay for quality work.
Most problems arose when a written contract was not signed before work started.
Mr Florence said the best advice for his members was to not start work without a contract and to keep a strong communication line with customers.
The Minister of Building and Construction, Maurice Williamson, would not comment on the possibility of legislation that will require a written contract for any building work over a set cost.
HOMEOWNER DEVASTATED' BY $400,000 BLOWOUT
A homeowner whose renovation costs totalled $400,000 more than estimated is not surprised that a growing number of disgruntled customers are refusing to pay their builders.
Self-employed businessman Marc Spring had previously used and trusted N Cole, the builder he hired to renovate his villa in Epsom, Auckland.
He said he was quoted a price of $300,000 for the job.
The work - adding two bedrooms and a small rear extension, increasing the total area of the house by 70sq m - was finished six months later, and the final invoice was $700,000.
"They told me, 'It is what it is, sometimes these things just take on a life of their own'."
There had been no earlier indications that costs would blow out so significantly.
Mr Spring said he did not sign a written contract and took the case to arbitration under the Construction Contracts Act. The ruling was that the difference should be split.
He said that after paying half the $400,000 blowout and an extra $86,000 for remedial work, he was "financially devastated".
N Cole director Arthur Coyte disputed Mr Spring's account, saying the $300,000 figure was an estimate, not a final quote.
"Things changed dramatically as the job went on. Some of the design wasn't adequate and we told him that.
"As far as we're concerned, as builders, we did very well out of it - out of the court system and how they viewed it."
- APNZ