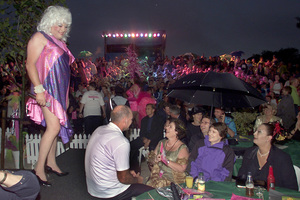 Photo recall: Devine Miss K was never one to quietly let some upstart politician plant his behind on her stage
It was a chance to shame them in front of more than a thousand people - including their boss, the prime minister.
The longtime drag queen, aka dad-of-two Wayne Otter, was snapped by a New Zealand Herald photographer bearing down on then Labour MP Chris Carter during Auckland's last Hero Parade in 2001.
Carter had sat on the edge of the stage that Otter, wearing a hot pink and purple dress specially made for the event, was using to MC a parade party at Ponsonby's Western Park.
The MP was talking to Prime Minister Helen Clark and fellow Labour MPs Judith Tizard and Georgina Beyer.
Otter can't remember exactly what he said to Carter, but remembered it being a bit of a scolding.
"I asked him to 'get off my stage'."
Carter escaped, a pair of jet black high heels threatening to help him on his way.
"I don't think it came to that. I wouldn't have minded too much because it was a pretty good atmosphere, you can tell by the reactions of the others that it wasn't serious.
"But it's always fun to give MPs a hard time."
Carter, who now works for the United Nations in Afghanistan, couldn't be contacted but Beyer said she remembered Devine Miss K well for her long involvement in the parade, which celebrated gay pride each year from the early 1990s until 2001.
Beyer couldn't remember the incident. "But if Miss K was saying 'get off the stage' it would've been in fun."
Otter enjoyed his last parade experience, but was glad when it was over.
Wearing heels was no big deal but it was exhausting entertaining the 1100 people crammed into the park.
He had fond memories of all the parades, but thought they had "done their dash" as the battles they were fighting had been won.
Auckland Council announced this month a two-week gay pride festival would take place next February.
Otter said he would prefer to see a diversity parade in the city, rather than a repeat of the Hero Parade.