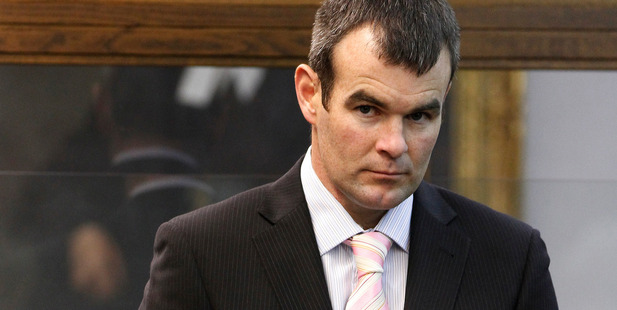 They could be a key to solving her brother's murder - but Anna Macdonald can't remember if she threw away her husband's "scungy, dirty" dive boots.
Her last memory of the boots was at the couple's cottage on the Guy family farm near Feilding in 2008, before they moved into the family homestead.
She has previously said she remembered throwing one of the boots on to a trailer-load of rubbish.
But now she isn't so sure - and yesterday she revealed that her husband, Ewen, who is accused of the murder, asked her to think about the dive boots after his arrest and if she remembered throwing them on to a trailer.
Distinctive footprints left by a pair of size-nine ripple-soled boots were found near where Scott Guy died on his driveway after his killer stepped out of the darkness and shot him in the throat while he was on his way to work in the milking shed.
The footprints were found near Mr Guy's feet and beside his head.
The Crown alleges Ewen Macdonald left the prints when he killed Mr Guy.
Macdonald owned a pair of size-nine boots, but did not have them when police searched his belongings after the shooting.
He denies being the killer and is on trial in the High Court at Wellington.
In court yesterday, Mrs Macdonald said she could remember her husband asking her, after he was arrested, to think about what happened to the dive boots.
"I went away and thought about it for quite a while. I assumed that is what would have happened, because we had a trailer of rubbish outside."
The conversation with her husband while he was in Manawatu Prison jogged her memory.
"I suppose that kind of filled in the blanks for me," Mrs Macdonald said.
But yesterday, she said she was no longer certain of what had happened to the boot.
"I thought I remembered throwing it out but I'm not 100 per cent sure," she told Crown prosecutor Ben Vanderkolk. "I just assumed that's what we would have done."
Boots were kept in a cupboard, but they were not in pairs.
"Ewen owned all sorts of boots - tall boots, short boots, farm boots ... they are all just dumped in there."
She didn't take much notice of what he wore hunting because hunting was his passion, and not hers.
Asked by Macdonald's lawyer, Greg King, whether she stood by her earlier evidence or there had been a change, she said there had been a slight change.
She could not remember "physically throwing" the boot on the trailer.
She wanted to throw it out because it was "scungy and dirty" and had cobwebs on it.
She could not remember seeing the dive boots in the home they had lived in since mid-2008.
But Macdonald's mother, Marlene Macdonald, said she could remember seeing them after the family moved into their new house.
She had retrieved the house key from inside one of them after she locked herself out of the house.
But she didn't think they were in the house in June 2010, when she stayed for several days babysitting while Ewen and Anna were holidaying in Fiji to celebrate Ewen's 30th birthday.
"I am positive, I would swear on the Bible it was not there."
That was because the spare key had been left in the boot, but in June 2010 it was kept elsewhere.
She said both her sons had been around firearms from a young age as a deliberate move by her husband, Kerry, so the boys would lose their curiosity and not play with them.
Kerry Macdonald told the court his business, Hunting and Fishing in Palmerston North, stocked the dive boots, which were used as camp boots to slip on at the end of a day's hunting.
Jury members were shown photos of Ewen Macdonald wearing dive boots on a hunting trip to Stewart Island with his father in 2005.
Kerry Macdonald said his son did not know the combination to his gun safe at home and would not have been able to take a gun from his shop without him knowing about it.
The trial has heard the distinctive bootprints were also found near where Scott and Kylee Guy's Labrador puppies were kept, and also along a fence line near the gate Mr Guy was about to open when he was shot. The Crown alleges Ewen Macdonald killed the puppies to create a false lead for investigators.