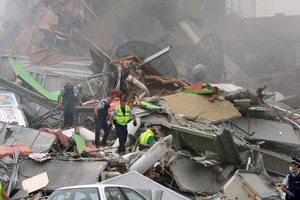 Grieving families of Canterbury Television building victims want "final answers" and "honesty" as to how their loved ones died in the February 22 Canterbury earthquake.
The Royal Commission hearing into the collapse of the six-storey Christchurch building starts on Monday and bereaved families are steeling themselves for what will be "an emotional and traumatic" eight weeks.
The collapse and subsequent fire at the building killed 115 people, making it the biggest single site of tragedy in last year's February earthquake that killed 185 people.
Family members have vowed to attend the start of the hearing at a church hall in Christchurch on Monday morning.
Lawyers on the behalf of the families will ask witnesses and experts the questions which have haunted them since their loved ones died in the disaster 16 months ago.
Most families want to know who is responsible for the building's catastrophic collapse while others, like Quake Families group co-chairman Brian Kennedy, just want transparency and honesty.
"An apology would be nice," said Mr Kennedy, whose wife Faye died in the CTV building collapse.
"I don't think anyone is going out to lay blame. We just want final answers and honesty from the engineers. Only one engineer who's given evidence (during the Royal Commission hearings) has put his hand up and admitted a mistake. He must be the only engineer who can sleep straight in bed, I reckon.
"It would be nice for someone to say they could have done better."
Around 20 members of the Quake Families group will be in attendance on Monday when the hearing begins at 9.30am with an opening ceremony, before the first witnesses take the stand.
The first week will hear from the building's tenants, as well as witnesses to its collapse in the magnitude-6.3 quake which devastated the city at 12.51pm on February 22 last year.
"We'll have to relive it all, but I'll be there," Mr Kennedy said.
"I won't manage every day. I'll take time off work and work around it. But if there's a particular point, or someone I want to hear, I'll be there for that."
He said one Quake Families member has vowed to attend every minute of the hearing, which will look at the building's whole history, from when it was designed and built in the 1980s, and how it was assessed after the magnitude-7.1 September 4, 2010 shake and the Boxing Day 2010 quake.
A Department of Building and Housing's technical investigation into the inner city structure's collapse released this February found it failed to meet construction standards when it was built.
It identified three "critical factors" in its failure - brittle columns, intense ground shaking, and the asymmetrical layout of shear walls.
That report has been peer reviewed for the hearing and will be examined in detail.
It will be hard hearing for a lot of families.
Karen Bishop, whose 33-year-old son Andrew 'Bish' Bishop died in the collapse, is struggling to prepare herself for next week.
"I'm trying to avoid going (to the hearing) at the moment... it's pretty painful. I don't want to be there for the first few days," she said.
"This Royal Commission has to be done but it does bring it all back close to home again. It's just an absolute nightmare.
"I doubt it will help with the grief process. It will be emotional and traumatic.
"But if at the end of it it brings safer building practices, so nobody has to deal with what we've had to deal with, then I'm quite happy for that to happen."
Lawyer Marcus Elliott will represent the families, and ask witnesses questions, which they have struggled with over the last 16 months, on their behalf.
The hearing should highlight the "finite points" of the building's failure, Mr Kennedy said, and he would take "some heart" from knowing once and for sure why it caused his wife's death.
But for Ms Bishop, and others, it won't bring any sense of finality.
"For us, as remaining family, it goes on forever, knowing there is a huge gap in our lives that can never be replaced - no matter what anybody says."
The Canterbury Earthquake Royal Commission, chaired by Justice Mark Cooper, has until November 12 to deliver its final report.
- APNZ