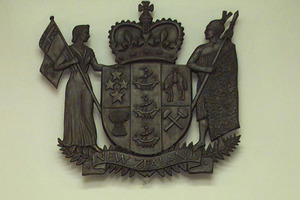 File photo / NZ Herald
A Rotorua man on trial for kidnapping his partner told police he "backhanded" her but never stopped her from leaving their home.
Wade Pereira, 25, is on trial in the Rotorua District Court after pleading not guilty to a charge of kidnapping relating to an incident in Rotorua in November, 2011.
He has pleaded guilty to injuring the complainant with intent to injure during that weekend and on an earlier date.
The Crown says that between November 19 and November 21, 2011, Pereira carried out a series of vicious attacks on the woman - punching, headbutting and smothering her. Each time the woman tried to escape he prevented her from leaving.
In court yesterday, the jury was shown the remainder of the complainant's interview with police, during which she said she was continually beaten by Pereira over the weekend and prevented from leaving the home several times.
Under cross-examination via closed circuit television by defence lawyer Harry Edward the complainant confirmed she had written Pereira a number of letters since the incident and in one had said she didn't agree with the kidnapping charge.
"Is it the truth that you were upset about the assault and the kidnapping is untrue?" Mr Edward asked. The complainant answered: "I think so."
Rotorua Crown prosecutor Laura Owen asked the complainant why she didn't leave the house when Pereira went to the supermarket on November 20 and why she didn't seek help from neighbours and the complainant said she chose not to.
When asked why she didn't ask Pereira's brothers for help when they came to the house, she said she didn't want to involve other people.
In response to Ms Owen's questioning she said Pereira had replied to her letters but had not asked her to change her evidence.
The jury was read a transcript of the 111 call made by the complainant after she left the house on November 21.
She told the operator "I have been locked in my house for about three days continually being beaten."
The jury was shown a DVD of the police interview with Pereira on November 22, after his arrest.
Pereira told police an argument had broken out between the couple when he got home on November 19 during which he lashed out with the back of his hand, hitting his partner in the mouth. He said she had been sending him texts all day "rarking him up".
He said he got her a face cloth, apologised and that was it - the couple later ordered pizza and "crashed out" in the lounge. He denied further violence or that he refused to take her to the hospital when asked.
"I said 'come on then we'll go to hospital'," he said. "She didn't want to go."
He said Sunday was "a normal day" during which he went to the supermarket, leaving the complainant home alone.
Pereira said his partner left voluntarily on Monday morning when a friend of his came to the house. "She walked off while we were standing there talking."
The trial continues.
for more articles from this region, go to ROTORUA DAILY POST