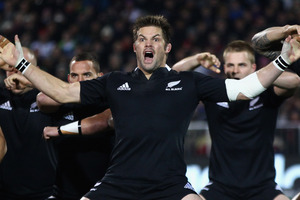 A streaker who braved sub-zero temperatures to run onto the field during Saturday's All Blacks test against Ireland has been banned from the new AMI Stadium in Addington for two years.
But the 21-year-old Christchurch woman who stripped naked in front of the sell-out 21,000 crowd during half-time will not face the courts.
The woman was locked up and spent a night in the cells at the central police station.
Police yesterday confirmed that she was let off with a warning.
The crowd roared when she was carted off the near-frozen pitch by three security guards rugged up in beanies, gloves and heavy-duty jackets.
Temperatures dropped below zero during the match which the All Blacks won 22-19 after a last minute Dan Carter drop-goal.
Events organiser Vbase, which manages AMI Stadium on behalf of charity Christchurch Stadium Trust, said it took a dim view of pitch invaders.
"We haven't had it (a streaker) for such a long time," Vbase general manager Russell Kenny said.
"Gone are the days when it is seen as fun. You invade a pitch now and you'll get a ban. It's a deterrent - we don't want 10 streakers a game."
The woman is not the first streaker at Addington over the last 12 months.
At last November's New Zealand Trotting Cup at Addington Raceway, Christchurch interior designer Hayley Jan Scheerhoorn, 32, jumped the fence, ran onto the racetrack, stripped to her underwear and showed her breasts.
She was charged with disorderly behaviour and later granted diversion.
Scheerhoorn was also banned from Addington for two years.
And it's not the first streaker for an All Blacks versus Ireland test either.

- APNZ