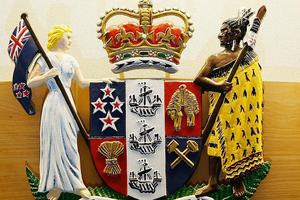 Two Queenstown men were jailed for what Judge Kevin Phillips called a premeditated kidnapping following a drug deal that went wrong.
Friends Brodie O'Rourke, 24, and Michael Coulter, 25, were being sentenced for their part in the violent kidnapping of Jason Maynard last November which began at the top of the Crown Range and ended on the outskirts of Arrowtown.
O'Rourke, who instigated the assault and detention of Mr Maynard, was sentenced to three years, six months' imprisonment and ordered to pay $3000 reparation to his victim.
Coulter was sentenced to three years' jail and ordered to pay the same reparation as his friend.
Judge Phillips did not accept the defence's assertion the assault had not been planned by the group, saying there had been "a high degree of premeditation" to the offending.
The court was told the group had met at O'Rourke's home in Frankton on November 26 to discuss the confrontation.
They drove to the top of the Crown Range and approached the victim and his girlfriend, where they proceeded to kick, punch and head-butt the victim. A meat cleaver was held to the victim's throat by O'Rourke.
Mr Maynard was then taken to Arrowtown and dumped on the side of the road before the car had sped off. The victim's girlfriend picked him up after speaking on the phone with police.
The victim, who has since moved to Auckland, received cuts and bruises in the attack and his girlfriend received similar injuries. Defence lawyer Nic Soper said the assault had not been planned, but upon discovering Mr Maynard had no cash on him they then put him in their car and drove to Arrowtown with the aim of visiting at ATM.
"It was a spontaneous decision, regrettably."
Mr Soper said there was an argument that could be advanced that the men were entitled to get back money they were owed.
After O'Rourke and three others had paid Mr Maynard $60 each for ecstasy pills in a Queenstown nightclub last year, they felt cheated when they discovered what they believed was a flour and brown sugar substance.
"You felt you had been ripped off and matters quite simply became out of control and spiralled from that moment on," said Judge Phillips.
"The alcohol and bravado of it all got the best of you," he said when sentencing O'Rourke.
"The arrangements were made, you brought Coulter into it and he is going to prison as a result."
Judge Phillips said Coulter, whose pre-sentencing report described him as a "loyal friend" to O'Rourke, was not a man who should have been standing in the dock for such a crime.
"You became an active participant - you knew there were weapons, you knew what the others were doing and you remained at the forefront of it all."
Last month Samuel Coupe, 28, was sentenced to two years, nine months in prison, Jonathan Burke to two years, three months and Daniel Kissell to eight months' home detention on charges of intending to commit a crime, namely theft by violent means, and wounding Mr Maynard.
Rachel Maree Faul, 20, Charlotte Amelia Spencer Dickson, 19, and Brooke Sylvia Carpenter, 17, are awaiting trial by jury to be held at the Invercargill District Court.