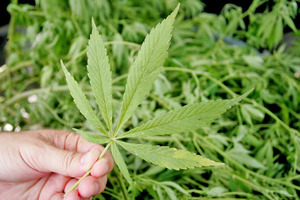 A major cannabis-growing operation has been uncovered by police, including a network of secret rooms built underground at a remote property outside Auckland.
Officers executed a search warrant at a remote block of farmland on O'Neil Rd in Kaukapakapa last Tuesday.
It is understood that operation had been running for about 12 months before they searched the property last week, and found "elaborate" underground rooms with power supply.
Police are believed to have recovered a significant amount of cannabis and specialist growing equipment.
A 46-year-old builder from Dairy Flat was found in an "outbuilding" on the property and was arrested.
Detective Senior Sergeant Scott Armstrong said the building was similar to a bunker. He said half of it resembled a normal building, and the other half was built into and underneath the bank behind.
He was reluctant to give details of the operation and what was found, including the amount of cannabis, as the case was before the courts.
But he confirmed that officers also searched the house the builder lived in at nearby Dairy Flat.
The builder has been charged with cultivating cannabis at the Kaukapakapa property, possessing cannabis for supply there, and possessing cannabis for supply at the Dairy Flat residence.
He has also been charged with selling cannabis.
He appeared in the North Shore District Court yesterday and was remanded in custody.
A 33-year-old contractor from Northcote appeared in the same courtroom yesterday charged with cultivating cannabis.
Police raided a factory on Airborne Place in Albany on Monday.
Detective Sergeant Brett Batty told the Herald officers were carrying out a scene examination that was likely to take several days.
He was also reluctant to talk about the specifics of the investigation, which was in its very early stages.
"Police were directed to the address late Monday on account of information received," he said.
"We conducted some inquiries at the address and as a result located a significant number of plants we suspect are cannabis growing at the property. We're looking at approximately 400 plants of various maturities, but we are unable to quantify the value of the yield of this amount of cannabis."
Mr Batty said other properties would be searched in relation to the growing operation. More arrests were possible but it was too early to say if the 33-year-old would face further charges.
"The investigation is still in an early phase. We're obviously keeping an open mind."
Police confirmed they were investigating a second operation after they found at least 400 cannabis plants growing in an Albany factory and made one arrest.
The discoveries are unrelated.