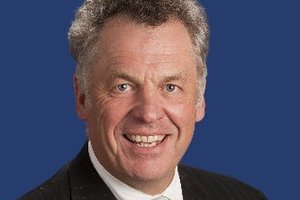 Infant twins and a 3-year-old boy will grow up without their dad after the sudden death of Tauranga City Council chief executive Ken Paterson.
Mr Paterson died in his sleep overnight Sunday - three weeks after celebrating his 61st birthday, leaving behind his wife, Melanie, and children Finley, 3, and 7-month-old twins Mackenzie and Elliot.
His brother-in-law Malcolm Johns told the Bay of Plenty Times it had been a courageous decision by Mr Paterson to have children at his age.
"He was one of the youngest 60-year-olds I have met. His devotion to Melanie and the children was one hundred per cent,'' Mr Johns said.
It was Mr Paterson's second marriage - the marriage much earlier in his life to a woman from his homeland of Scotland produced two children.
Mr Johns said his brother-in-law had huge energy and was inherently positive: "He was very solution-focused in his thinking.''
He described Mr Paterson as having a huge love of life and who never let his age get in the way. "He had an amazing ability to connect with people.
"He was always looking for challenges ... it is devastating that the twins will grow up not knowing their father.''
Mr Paterson and his wife married in 2006 and bought a house in Bethlehem after his appointment as the city's CEO.
Mr Johns said it would be tough on Melanie although she had strong family support including her retired parents, who lived near Waihi.
He said Mr Paterson's parents were elderly and would not be attending the funeral. They still lived in the small Scottish village where Mr Paterson grew up, Bridge of Earn.
Mr Johns said the cause of death had not been confirmed.
Mr Paterson had only just joined the Tauranga council when his focus took an abrupt change of direction with the grounding of the Rena on Astrolabe Reef.
"Ken walked into tumultuous times. The Rena consumed an enormous amount of his time,'' Tauranga Mayor Stuart Crosby told the Bay of Plenty Times.
Councillors gathered in the mayor's office yesterday immediately after the news of his death was announced, followed by a Maori blessing of Paterson's office by elders of Ngati Ranginui.
Mr Paterson spent four years as the chief executive of the Northland Regional Council before coming to Tauranga.
Regional council chairman Craig Brown said Mr Paterson had heart surgery before he arrived in Whangarei, and in a recent conversation Mr Paterson said he had passed all his health checks and was well.
Mr Paterson was admitted to Tauranga Hospital's coronary care unit on May 5 suffering chest pains. He was discharged after undergoing tests and was back behind his desk a week later.
Mr Crosby said that even while Mr Paterson was trying to rest, his brain was still going a hundred miles an hour thinking about what he was going to do once he was back at work.
"He was really committed to his job,'' Mr Crosby said. He added Mr Paterson's engineering background meant he was project focused and barely tolerated bureaucracies.
"He loved finding solutions to problems.'' Mr Paterson moved quickly to remove obstacles to Rena's salvors once containers started washing up on the city's beaches. It was a case of "let's sort out the bylaws later'.''
Mr Crosby credited Mr Paterson for seeing how Tauranga's civil defence preparations for a tsunami had been languishing. He drove initiatives that led to sirens going out to tender and planning an evacuation strategy for the low-lying coastal areas of the city.
"He was very much a blue-sky thinker and he was always looking at innovative ways to fix a problem.''
Among his other successes was rebooting the hotel project and refocusing Sulphur Point's Marine Precinct project which had also languished.
Overriding everything was Mr Paterson's goal to reset the organisation for the new economic climate.
Mr Crosby said Mr Paterson had a great personality who always had a twinkle in his eye. "He said what he thought. He was a very engaging person.''
Councillor Larry Baldock said Mr Paterson arrived into the Mount Hot Pools debacle and quickly showed his style of being upfront and committed to the wellbeing of Tauranga.
Before Mr Paterson's baptism of running a council in Northland, he had been the generation manager for Contact Energy and led TechScape, an infrastructure works and maintenance company formed by the former Waitakere and North Shore city councils.
Northlanders yesterday praised Mr Paterson for his vision and energy, saying that his monument was the new $18 million Northland Stadium, delivering it on time and on budget.
Mr Brown, of the Northland Regional Council, said Mr Paterson had significantly improved the council's efficiency. "He was a tough man and he didn't suffer fools gladly. From time to time you need a person like that.''
Western Bay of Plenty District Council Mayor Ross Paterson said Mr Paterson was straight up and he had never had a problem discussing things with him.
"You had to listen carefully because [his accent] was quite broad but it was well worth listening to whatever he had to say.''
For more articles from this region, go to Bay of Plenty Times