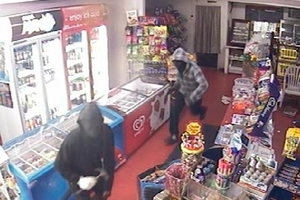 Police have not ruled out a possible link between the death of a popular Paeroa pizza and pasta shop owner and two armed robberies in nearby towns the same morning.
Jordan Voudouris, 57, was found dead on a driveway behind Mykonos Pizza and Pasta Paeroa in the Hauarki Plains town yesterday morning.
District rural field crime supervisor, Detective Senior Sergeant Mike Whitehead, said Waikato detectives are working with their Bay of Plenty colleagues to investigate an attempted robbery of the Mobil service station in Waihi at about 6am and the robbery of a dairy in Katikati a short time later.
"In the first incident a female service station attendant was assaulted when three men tried to unsuccessfully rob the store about 6am," Mr Whitehead said.
"We understand one of the offenders was armed with a pistol while another held an unknown object.
Mr Whitehead said the trio fled empty handed and a short time later the Park Road Dairy in Katikati was held up by two men who were described as being armed with a pistol and a hammer.
"CCTV footage from both businesses indicates these were the same offenders for both robberies.
"In both robberies no vehicle was seen however we believe, given the timings, they would have had a vehicle parked nearby."
Mr Whitehead said police were keen to hear from anyone who may have noticed a car parked near the Mobil service station in Waihi around 6am, seen a car driving erratically between Waihi and Katikati between 6am and 6.20am, or a car parked on or around Park Rd in Kaitikati around the time of the dairy robbery.
Police are keeping an open mind that the armed burglaries may be linked to the death of Mr Voudouris.
"As we await the results of a post-mortem examination being carried out in Auckland this morning we are appealing to the public for any information they may have on how he may have suffered his injuries," Mr Whitehead said.
"To the offenders involved in the Waihi and Katikati robberies I would urge you to make contact with Police and arrange to surrender yourselves at the earliest opportunity for your own, and the public's safety."
Anyone with any information on the death of the Mr Voudouris is asked to contact Paeroa Police on 07 862 8744.